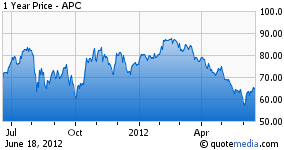 Anadarko (NYSE:APC) is on a streak of almost unbelievable successes in deepwater exploration across the globe. The discoveries announced over the last week more than make up for its recent failure with the Spartacus prospect in the Gulf of Mexico, on which it lost approximately $20 million in acquisition and exploration costs.
The Rovuma Basin, located off the shores of Mozambique, is one of Anadarko's hottest international plays, and the location of its most recent discovery, the Atum. With more than 300 net feet of natural gas encountered, this discovery could add between 4 and 12 tcf of proved recoverable reserves to Anadarko's reserve base, as Anadarko has a working interest of 36.5% in the joint venture that made the discovery. According to the partners, the next step for this play will be a four-well appraisal program. Anadarko is hopeful that this discovery is part of a larger find, as Senior Vice President for Worldwide Exploration Bob Daniels indicated it has "the potential to underpin a large liquefied natural gas development."
This find follows Anadarko's recently announced Prosperidade discovery, and leads to high hopes to two more of its offshore Mozambique holdings, Orca and Linguado. To handle production from these discoveries, Anadarko is laying plans for two LNG plants in Cabo Delgado. These hopes are well supported by its recent success rate, and I think that the ability to produce and export LNG from this base, close to Europe and Asia where prices remain strong and are predicted to rise steadily in the coming years, are going to give a healthy push to Anadarko's revenues.
In nearby Cote d'Ivoire, Anadarko encountered another discovery, this time of light oil. The Paon-1X found over 100 net feet of oil, and marks the first confirmed find in the CI-103 block. The block is operated by Tullow Oil, while Anadarko maintains a 40% interest. Angus McCoss, Tullow's (TUWLF,PK) Exploration Director, indicated the find "is encouraging for our future exploration efforts elsewhere in this license. We look forward to further drilling in CI-103 during 2013."
I like that Anadarko is participating in these offshore successes as a partner, rather than as an independent. As risk analysis company Maplecroft recently noted, oil and gas rich countries on the coasts of Africa are at high risk for "resource nationalism", the type of nationalization that hurt Exxon Mobil (NYSE:XOM) in Venezuela just a few short years ago. The civic unrest in these developing nations can be equally devastating, as Occidental (NYSE:OXY) can attest in regards to its operations in Libya and Yemen. Shell (NYSE:RDS.A) is even abandoning its Libyan efforts given continuing unrest and guerilla-style attacks, though it cited disappointing results in its decision. With these considerations, Anadarko looks smart taking a lower cut to mitigate its risk.
Building Infrastructure in the U.S.
Stateside, Anadarko is following a recent trend with energy dependents, as it broke ground on its new natural gas processing plant near the Eagle Ford Shale earlier this week. The plant is on the construction fast track, with operations scheduled for April 2013. The plant will have an initial capacity of 200 mcf of natural gas liquids per day, which will eventually be raised to 400 mcf per day. It remains to be seen if even this will be enough to support Anadarko's production, as the company is targeting over 4,000 potential drilling sites on the play.
Anadarko's plant reflects industry optimism on the Eagle Ford, which despite intense activity from nearly all of the major U.S. based players is not keeping up with infrastructure demand. As a result, operators are branching out into building company-owned infrastructure of all kinds to support steadily growing production. Competitors EOG Resources (NYSE:EOG) and Pioneer Natural Resources (NYSE:PXD) both recently branched out into operating sand mines for frac sand production. EOG is also handling its own transportation needs with its newly inaugurated St. James crude by rail system, which will also have capacity to handle other players' production.
These infrastructure additions will almost certainly lead to profits for the operators as activity on the Eagle Ford continues to ramp up. Marathon Oil (NYSE:MRO) alone is bringing between 16 and 20 new wells online each month, and expects to invest $200 million on its own infrastructure developments this year, when its production could reach 50,000 boe per day. This could push it past Anadarko, which recently reported a record week of 30,200 boe per day on the play, compared to an average sales volume of 27,300 boe per day. Even if Marathon does shoulder past Anadarko, Anadarko's current 600 mboe in Eagle Ford reserves is healthy enough to make it a neck and neck competition.
Outlook
Anadarko's stock is being discounted by shareholders, which many including myself believe is a response to the pending suit against the firm brought by the Environmental Protection Agency over a legacy acquisition. This led to Anadarko breaking through its one year support level last week, trading as low as $57. The stock bounced back almost immediately and is currently trading around $63, giving it a price to book of 1.6 and a forward price to earnings of 12.1, an attractive deal for this well-positioned company.
Analysts at FBR Capital cut Anadarko's price target from $100 to $90 recently, just after analysts at Societe General upgraded Anadarko from "hold" to "buy". I believe that $90 is far too low, and predict that if FBR maintains that target it will lead to headaches for the firm. According to Canaccord Genuity analyst John Gerdes, "we believe Anadarko's capital productivity is at least 10% higher than any other liquids-oriented E&P," putting FBR firmly in the minority. With the new focus on deep water operations, Anadarko is well on its way to becoming a super major, and I think these discoveries will propel Anadarko well beyond $100 in the long term.
Anadarko is doing well at mitigating its risks overseas by continuing to develop its U.S. based plays. Its pending EPA lawsuit is a matter of some concern, but in my view it is unlikely that the company will see a BP-sized penalty from the litigation. Investors will do well to give Anadarko a good look while it's trading low.
Disclosure: I have no positions in any stocks mentioned, and no plans to initiate any positions within the next 72 hours.