One of the most commonly recommended strategies in dividend investing is to invest in the "Dividend Aristocrats." This index, maintained by Standard and Poors, is comprised of:
large cap, blue chip companies within the S&P 500 that have followed a policy of increasing dividends every year for at least 25 consecutive years
ETFs like the SPDR S&P Dividend (NYSEARCA:SDY) aim to track the performance of dividend-yielding S&P stocks. While the ETF currently provides a fairly solid 3.18% annual dividend, it hasn't done particularly well in "growth" in recent years. The seven-year chart is flat: the current share price of $55.41 is essentially the same as the share price at 2005-end. Even worse, the current share price is approximately 15% below the high set in 2007. (Note that this analysis of share price disregards potential returns via dividend reinvestment, which is an important component of dividend investing.)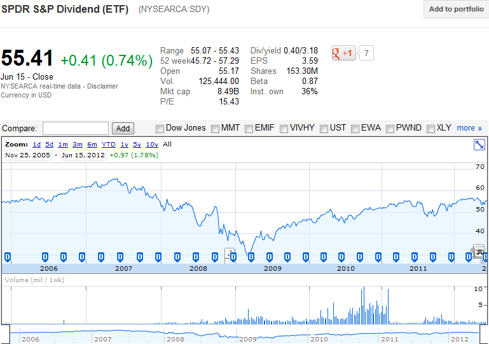 (Click to enlarge) (Source: Google Finance)
Finding The Best Growth Prospects: Cross Referencing Dividend Aristocrats with Top Managers' Portfolios
There are plenty of strategies that could be used to screen the Dividend Aristocrats (list here) down to a potential list of superstar stocks. You could use PE ratios, PEG ratios, or any other number of financial metrics. However, I decided to consult two experts' portfolios. Looking at the stocks picked by the brightest financial minds can often serve as a starting point for a solid investing strategy.
The first expert I chose is Donald Yacktman, recipient of Morningstar's prestigious Fund Manager of the Year award and nominee for Morningstar's Fund Manager of the Decade award, has a great record of picking stocks presenting a good value. In fact, during the secular bear market of the 2000s, Yacktman trounced the S&P 500 with a 9.91% annualized return. Yacktman invests using a "beach ball" philosophy -- he purchases stocks he views as undervalued, because he believes they will eventually "pop up" like a beach ball held underwater. (Click here to see Yacktman's holdings.)
The second expert I chose is Warren Buffett, whose holdings [via Berkshire Hathaway (NYSE:BRK.B)] can be found here. Hopefully, I don't need to explain Buffett's track record.
Results
The following Dividend Aristocrats appear in both the Yacktman and Buffett portfolios.
The following Dividend Aristocrats appear in the Yacktman portfolio, but not in the Berkshire portfolio. (Interestingly, there were no Dividend Aristocrats that appeared in the Berkshire portfolio but not the Yacktman portfolio.)
These nine stocks can be viewed as the "best of the best" for value-conscious investors -- they're not only Dividend Aristocrats with a history of dividend raises, but also stocks that expert money managers believe will outperform. (Standard disclaimer: when investing in any company, it's important to conduct due diligence and analyze the balance sheet, financial metrics, news, etc.)
I'm bullish on U.S. stocks overall, for reasons I explained in my Hook 'em Horns article. If you're looking to dip your toes into the market, I would certainly recommend looking into the nine stocks mentioned above.
Disclosure: I have no positions in any stocks mentioned, but may initiate a long position in JNJ, PG over the next 72 hours. I am long the Yacktman Focused Fund (MUTF:YAFFX).