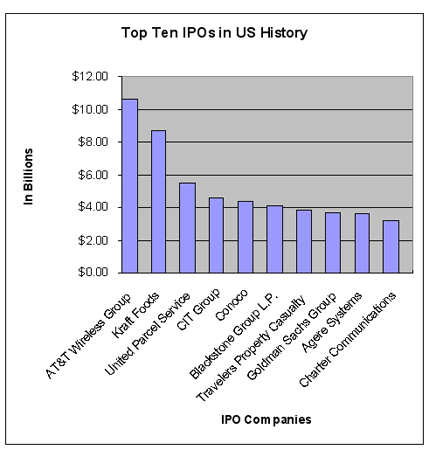 In April 2000, AT&T Wireless (NYSE:T) unveiled the largest IPO in American history, raising $10.6 billion. A little more than a year later, Kraft Foods (KFT) released an IPO that raised $8.7 billion, pushing the new stock issue up 40% in one year.
And Mastercard Inc. (NYSE:MA) recently made investors gains of 463% in the biggest IPO since 2004, worth $2.4 billion…
Visa's (NYSE:V) IPO might be your chance to get into the next biggest IPO. Something groundbreaking is about to happen in the land of initial public offerings.
Visa Inc. is about to have what could be the biggest IPO in American history, planning to raise $19 billion.
Instead of being a credit lender, Visa is a credit-card processor. Visa's cards are a way to diversify your portfolio globally, as more people in emerging markets are using plastic instead of cash for purchases.
Visa plans to have 406 million shares of stock, between $37 and $42 per share, available in the IPO. And 40.6 million shares will be available to underwriters to meet demand of the largest card processor in the world.
Visa will offer its stock shares under the ticker symbol V. If you get a chance to get your hands on any shares, I would go for it. After all, institutions will be the biggest buyers of this stock. And you can bet that successful investors like Warren Buffett will want a piece, too.
If you can be patient, this could be even better than MasterCard!
Disclosure: none