I commute via train on a fairly regular basis and since it is normally on a subway-esque route, seats face each other and people are often standing on top of each other. Due to our nation's fascination/addiction to their mobile devices, I generally have the opportunity to nosily examine what they are doing and on what, while I inconspicuously listen to my iTouch (NASDAQ:AAPL). This past week, I was on a New York to Newark train in the evening commute timeslot with what I would call the working lower-upper-middle class and decided to actually track what I was observing.
There were about a dozen people within my immediate view. Only one was reading an actual paperback book (which looked to be a fiction). Another was reading on an Amazon Kindle (NASDAQ:AMZN) (interestingly no iPads seen on this trip). Another was either sleeping or doing the same thing I was doing. One person was holding a Blackberry (RIMM), dressed in equally outdated clothing. And lastly, there were 8 iPhones. This came as a bit of a shock to me, and counting the iPhone in my pocket, there were 9. One person was playing Angry Birds. A bald, middle-aged man was flipping between Words with Friends and Draw Something. Several were listening to music and simultaneously checking email or reading something. And lastly someone looked to be streaming a movie. For what it's worth, when I got off the train there was a homeless person texting someone on a flip-phone.
So what does any of this have to do with stocks, you ask? Well I for one was pleased since I own both Apple and Verizon (NYSE:VZ) and this is reaffirmation of the fact that each are solid companies with strong holds on their market positions.
I have recommended Verizon several times in the past, and in this particular smartphone context, over a year ago in this article. At the time, the stock was trading at around $36 and yielding 5.4%. More importantly, in March 2011, 49% of their phone sales were smartphones, and these smartphones made up 26% of their plans. Recent estimates for total smartphone sales have them at around 42% of all cell subscribers.
This of course is great news for both Verizon and AT&T (NYSE:T), each of which are trading right around 52-week highs. The questions become, which is a better bet for future growth and how much to I value their current dividend payouts. Comparing the two is quite difficult. AT&T has a slightly higher P/E at 51.5 to Verizon's 46.7, but also has a higher dividend yield at 4.9% versus 4.6%. With that higher yield, AT&T has a higher payout ratio (254%-210%), though each are dangerously high. A greater percent of Verizon's total revenue comes for phone subscriptions than AT&T. Ultimately, it is a close call and each are probably a safe long-term play. It could easily come down to personal preference. I use Verizon and I have no issues with their service. I have Verizon Fios and it is incredible. And lastly, I got Verizon at a pretty good entry point.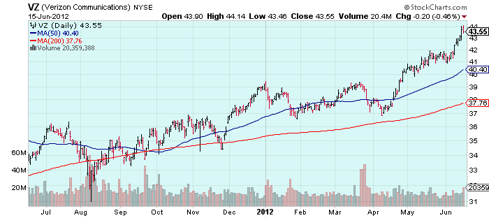 Click to enlarge
As you can see, Verizon has a healthy looking 1 year chart. There is a steady up trend and if things go well, the recent spike may have moved them up into a new channel, one that would show support at just over $42. However, investors should keep in mind that the company's next earnings report is a month from now so caution should be exercised. Perhaps, a partial investment now, and then another after the earnings movement, to either lower your cost basis, or get more in before the price continues to rise.
Turing to Apple, it is no surprise that iPhones are all over the place. Apple, like Disney (NYSE:DIS), has a way of hooking people onto their products for the long haul; a marketing strategy known as iMethamphetamine. According to Trefis, over half of Apple's earnings are derived from iPhones, while iPads and Macbooks account for about 23%.
The funny thing is, Apple still has a fight on its hands when it comes to smartphones. Many a study has tried to come up with the exact numbers, but this one from Market Watch, has Apple at 35 million units sold and Samsung at 43 million units in quarter 1 2012. Here is another interesting study from Reuters that requires less reading. My guess would be that this largely due to the price disparities. iPhones are much more expensive, especially when its capable of having a conversation with you.
Apple's next earnings report is a month away and iPhone sales figures will surely be a driver on their stock price one way or another. Of course, the Worldwide Developer's Conference did not really help and if and when an Apple TV announcement does come the stock will go for a ride. Additionally, the infamous dividend initiation may open the stock up to more funds, which could help the price get back over the $600 hurdle. In closing, I think that the continuing rise in market share by smartphones is not the least bit surprising to investors, but it would be prudent to benefit off of it with either Verizon or AT&T and the best product they are pushing, the iPhone.