One up-and-coming oncology biotech firm that investors should put on their radar is Spectrum Pharmaceuticals (NASDAQ:SPPI). The company has seen a pattern of success this last year, and with two late-stage products and an otherwise diverse pipeline, the company may be seeing greater successes down the road.
Spectrum earned record earnings in the first quarter of 2012 off of increasing sales of its colorectal cancer drug FUSILEV and management of operating expenses, according to CEO Rajesh Shrotriya, MD. Net income was at $46.5 million vs. $13 million in the same period of 2011. The company has two marketed drugs right now: ZEVALIN indicated to treat follicular non-Hodgkin's lymphoma, and FUSILEV to treat patients with colorectal cancer and a rare bone cancer osteosarcoma. FUSILEV accounts for the majority of the company's sales.
FUSILEV is a purer compound than generic drug leucovorin, which is the standard treatment for patients with colorectal cancer. That means it is as effective at half the dosage. A supply shortage of leucovorin has and is expected to contribute to FUSILEV's sales this year. FUSILEV has 8 more years under patent protection.
Spectrum also has two products in Phase 3: belinostat to treat T-cell lymphoma, and apaziquone to treat bladder cancer. Belinostat recently saw encouraging results in a Phase 2 study to treat relapsed and refractory aggressive B-cell lymphomas. Spectrum also has 4 other experimental drugs currently in Phase 2 according to the company's website.
Looking at the stock's fundamentals, there is significant reason for optimism. Spectrum is trading at a TTM P/E of 8.88 vs. a 21.57 average for the biotech industry according to Fidelity. P/FCF is at 7.98, which is generally considered low. The company is also enjoying healthy liquidity, with current ratio at 3.18 and quick ratio at 3.07, which is vital for most small-cap biotech firms.
Spectrum is also seeing strong sales trends, comparing growth in revenue to growth in accounts receivable over the last year. Revenue grew by 37.29% during the most recent quarter ($59.86M vs. $43.6M y/y). Accounts receivable grew by 6.5% during the same time period ($55.38M vs. $52M y/y). Receivables, as a percentage of current assets, decreased from 37.26% to 21.07% during the most recent quarter (comparing 3 months ending 2012-03-31 to 3 months ending 2011-03-31).
Institutional investors are excited about Spectrum's prospects as well, with net institutional purchases in the current quarter at 6.6M shares, which represents about 14.05% of the company's float of 46.99M shares. Among sell-side analysts, RBC Capital Markets rates SPPI an "Outperform," and MLV Capital rates it a "Buy."
Among the potential pitfalls for SPPI are the company's heavy reliance on future sales of FUSILEV, which are subject to changes in the supply of generic leucovorin. As with any biotech firm, its stock's success also relies on the success of future clinical trials of its pipeline drugs.
For a closer look at Spectrum stock, use Kapitall tools to compare analyst ratings for Spectrum and its industry competitors.
For an interactive version of this chart, click on the image below. Analyst ratings sourced from Zacks Investment Research.‬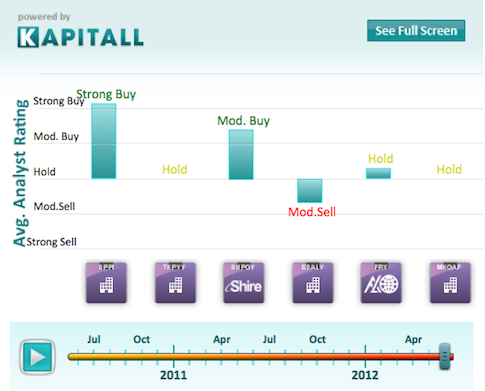 Tool provided by Kapitall.
If you're willing to assume the inherent risk that comes with many small-cap biotech stocks, I believe Spectrum Pharmaceuticals offers a lot of opportunity at a fair to discounted price.
*Written by Alexander Crawford. Accounting data sourced from Google Finance, institutional and P/E data sourced from Fidelity, all other data sourced from Finviz.
Disclosure: I have no positions in any stocks mentioned, and no plans to initiate any positions within the next 72 hours.