The value of Sprint Nextel (NYSE:S) stock will continue to deteriorate further in 2008. Sprint is in a very defensive position – currently with a debt to asset ratio of 66% mostly associated with the $29.7 billion goodwill that was impaired from the Nextel acquisition. Customer defections will nearly double again in the first quarter to 1.2 million. While Sprint lost 700K customers in Q4 2007, Verizon (NYSE:VZ) added 2 million. Additional charges for employee reductions and store closings indicate a loss for Q1. Revenues will decrease more significantly in Q1 than from Q4 due to the charges, loss of customers, and service price reductions.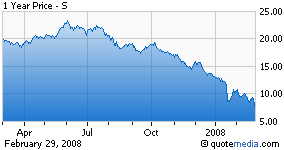 Sprint has lost over 70% of its market value in 8 months ($46 billion). Current market cap is $20 billion. This author argues that Sprint can only be valued at this amount based on 2 scenarios – 1) future earnings, or 2) value of assets.
Using the $20 billion market capitalization, and assigning a forward p/e of 20 for 2008, indicates that the company has to generate net income of $1 billion for the year – which will be impossible in relation to current trends. Revenues declined 2% for third quarter to fourth in 2007, and Q4 should a decline of 6% in revenues for Q4 2006. Using the company's statement concerning customer defections being 1.2 million in Q1 of 2008, a further sequential quarterly decrease of at least 4 % can be expected.
Additionally, the company immediately announced a reduction is service price, which one could consider a desperate measure. If the prevailing issue is loss of revenue – how does cutting the price to current subscribers increase revenue? It does not. This is an attempt to slow the rate of customer defections, or lessen the rate of decrease in revenue. To offset operating expenses against the loss of revenues, the company has reduced workforce and closed retail locations. This is a short term solution to the long term problem. Service level will be negatively affected.
Removing the $29.7 expense for goodwill impairment, Sprint has a net loss from continuing operations before income taxes for 2007. Considering all factors, this author for expects Sprint will not generate positive net income in 2008.
Wireless market
A business asset's true value is the ability to generate income. The impairment was recognized because the asset, goodwill, was unable to be utilized to generate income. This author has read many statements in the last few weeks arguing that the book value of Sprint – currently $22 billion – justifies the current valuation. Simply stated, if Sprint is unable to produce a return on these assets going forward, they are overvalued.
Speculation runs rampant about potential acquirers of Sprint. First, anyone considering something that is broken would require a discount. Sprint is significantly "broken" – therefore a significant discount would be required. Second, one must look at the Verizon and AT & T (NYSE:T) – the dominant entities in the US market.
The wireless market is maturing from the growth stage of the last decade. Both Verizon and AT&T have the luxury of viewing this downfall of Sprint as the avenue to increase profitability – because Sprint is giving them the market share. Customers will continue to matriculate to VZ and T at an increasing rate. Both have no impetus to "overpay" for Sprint's assets and customer base. Possibly the most significant comparative financial ratio at this point is – operating margins. VZ and T have operating margins of 5 times of the operating margin of Sprint.
Hindsight clarifies issues
Future analysis will provide the details of poor decisions by Sprint management and directors over the last few years. Customer service issues were resultant of top down policies to extend customer contracts over every concern of customer satisfaction. Future college business policy textbooks will contain case studies of Sprint's downfall being precipitated from internal mismanagement rather than external market factors.
Disclosure: Author has a short position in S