With Wednesday's FOMC rate announcement rapidly approaching, markets have been rife with speculation regarding the Fed's next move. While the Fed's decision will have a huge impact on the direction of global equities, the short-term impact on gold is also likely to be very strong. I expect the Gold ETF (NYSEARCA:GLD) to suffer immensely following the Fed press conference on Wednesday.
Click to enlarge image.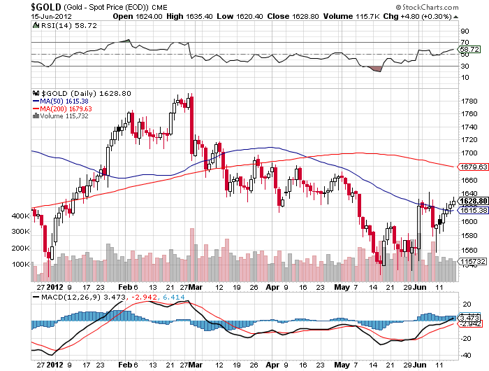 Click to enlarge
After testing $1,540 per oz three times, gold finally got direction in these past few weeks of euro-induced worries. Spot gold is now at an important price level, testing the recent highs at the $1,640 level. Gold appears to have caught a rising bid recently as a run-up play to Fed easing, up nearly $70 in the past week.
While I remain bullish on gold's long-term prospects, this Wednesday could lead to severe losses for traders banking on more immediate easing from the Fed.
Easing Doubtful for This Wednesday
Markets have recovered significantly recently, and in the strange logic of the Fed, markets = economy. Additionally, Bernanke seems to believe that the soft macro data of late is a result of givebacks from the exaggerated strength of Q1 growth (I actually agree with him somewhat).
Furthermore, yields are already at record lows across the board. While a housing-target LSAP program might make the most sense from the Fed's perspective, rates are at extremely favorable levels already and there's no rush now that markets have stabilized.
Gold should take a big hit on the lack of easing, considering the recent run-up.
Long-Term Prospects
Market conditions will continue to deteriorate over the coming months if European leaders are unable to structure a bailout for Spain and, at some point, Italy. To counter the obvious structural macro issues, the Fed will what they always do and be forced to pump hundreds of billions, maybe even trillions, in liquidity into the system.
This is a simple dynamic, and I believe this Wednesday is going to allow long-term gold investors and traders an excellent entry point.
Disclosure: I have no positions in any stocks mentioned, and no plans to initiate any positions within the next 72 hours.