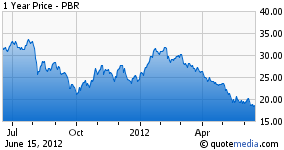 South America's largest publicly traded energy company Petrobras (NYSE:PBR) continues to under-whelm investors, with the company recently hitting a new 52 week low of $18.18. This is despite the company having extensive provable reserves and preferential access to some the largest oil discoveries of recent times in a region estimated to hold a fifth of the world's oil reserves. The company's recently released four year business plan has been poorly received by the market and failed to have a positive effect on the share price. Obviously global macro-economic factors combined with a falling oil price and a slowing of the Brazilian economy are having an effect, but there are deeper issues that are preventing value being realized for investors. These deeper issues arise from the current Brazilian government's self-interested management of the company combined with its reactive, interventionist and protectionist economic platform. These have increased investor concern as to whether Petrobras is capable of performing to its true potential and delivering value for investors.
Recent financial performance
Petrobras reported some less than impressive financial results for the first quarter 2012 and these results are a direct result of the baggage that currently inhibits the company's ability to perform. For this period Petrobras reported a 3% increase in revenue from the fourth quarter 2011 (QoQ) and a 15% increase from the first quarter 2011 (YoY) to $37 billion. When this revenue is translated into net income of $5 billion the results are far from impressive despite the stunning 86% QoQ increase, because on a YoY basis net income has fallen by 21%. The company's cost of sales of $26 billion for the first quarter 2012 was also disappointing despite falling by 2.5% QoQ because it represents a YoY increase of 26% YoY for a YoY production increase of only 1%.
The company's strengths
In my view the significant rise in costs particularly in proportion to such a small rise in production is symptomatic of the baggage that currently afflicts Petrobras. It is this baggage that is preventing the company from delivering value to investors and reaching its full potential. The company's extraordinary potential becomes evident when we examine the company's current provable and future potential oil reserves. Petrobras, as illustrated by the chart below, has provable oil reserves of 15 billion barrels of oil equivalent ('BOE'), which is eight times greater than its South American peer Colombia's Ecopetrol (NYSE:EC) at 1.8 million boe. These provable reserves are also higher than Chevron's (NYSE:CVX) 11 billion boe and Shell's (NYSE:RDS.A) 14 million boe.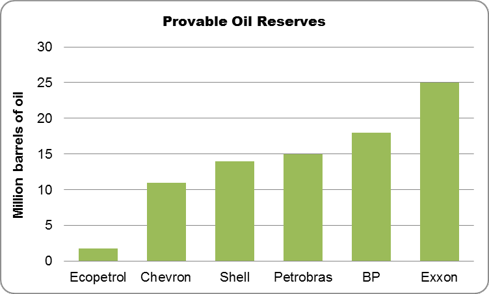 Sources: Ecopetrol Q1 2012 results, Chevron UBS Global Oil & Gas Conference presentation, Shell 2012 Investor Fact Sheet, BP Group Results Q1, Exxon 1Q12 Earnings Presentation.
It is also extremely likely that Petrobras is able to add to its reserves through additional discoveries in Brazil, particularly in the Atlantic deep-water fields off the Brazilian coast. It is estimated that South America and the Caribbean has over one fifth of the world's conventional oil reserves, with Brazil estimated to have a minimum of 50 billion boe in addition to proven reserves of around 15 billion boe. When it is considered that Petrobras has an 87% exploration success rate this bodes even better for the company's prospects of expanding its provable reserves.
Even more importantly Petrobras receives significant preferential treatment from the Brazilian government for the awarding of oil concessions and exploration rights in Brazil. This includes receiving a minimum 30% stake in joint ventures that bid for exploration licenses and being deemed as the official operator of all new sub-salt oil and gas concessions as well as other areas determined as "strategic" by the government. This certainly gives Petrobras significant advantages over other competing oil companies, particularly when the scale of Brazil's estimated reserves are considered.
This should see Petrobras delivering considerable shareholder value, yet the company is still failing to perform, which is even more worrying when the recent highs in the oil price are considered. This leaves the question of not only what are the risks associated with Petrobras but why is such a superbly positioned company consistently underperforming and failing to deliver value for its investors.
Why Petrobras fails to deliver for investors
In developed economies there is generally a legal accepted principle that the management of companies are required to act in the best interests of the company's beneficial owners, the shareholders. In some instances this is a legal concept defined only by customary law but in most cases it is codified in some form to ensure that company managers are aware of their responsibilities to the company's owners. There have been many instances throughout corporate history where 'management capture' has led to this principal have not being adhered to, but nonetheless it exists and acts as a guiding hand for management decisions and the protection of the interests of shareholders.
However, in the case of Petrobras this principle does not appear to exist. It seems that despite the company's strengths, the company is subject to significant management capture with decisions heavily influenced by its majority shareholder, the Brazilian government. This has seen the company make decisions that have only served to squander its dominant position and destroy value for shareholders while furthering the political and economic agendas of its majority shareholder.
Slowing production and rising production costs
Despite Petrobras having significant proven reserves it is failing to deliver a strong level of production, which as the chart below illustrates on an absolute basis is lower than the majority of its competitors.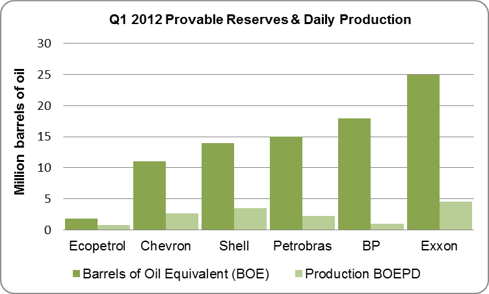 Sources: Ecopetrol Q1 2012 results, Chevron UBS Global Oil & Gas Conference presentation, Shell 2012 Investor Fact Sheet, BP Group Results Q1, Exxon 1Q12 Earnings Presentation.
When Petrobras' level of production is compared to its competitors as a percentage proportion of provable reserves, it becomes even clearer that the company is failing to develop its existing oil assets. Only BP's (NYSE:BP) production as a percentage of provable reserves of 6% lags behind Petrobras' 15%, while Ecopetrol's 41%, Shell's 25%, Chevron's 24% and Exxon's (NYSE:XOM) 18% are well ahead. This indicates that there are inefficiencies or blockages in the production process that are preventing Petrobras from capitalizing on its provable reserves.
But lagging production is not the only issue that Petrobras is experiencing; it is also struggling to maintain control of the costs of production. For the first quarter 2012, the company reported Brazilian lifting costs, excluding taxes, of $12.98 per boe, which is a 3% QoQ and 14% YoY increase. This is also 29% higher than Ecopetrol's lifting costs per barrel net of taxes and royalties. Interestingly, the total cost per boe produced more than doubles to $35.68 when Brazilian production taxes and royalties are included.
However, when we consider Petrobras' cost of goods sold as a percentage of revenue, it appears to be quite healthy, particularly in comparison to the majority of its peers. In this regard it is only lagging behind Ecopetrol and Chevron, as the chart below illustrates.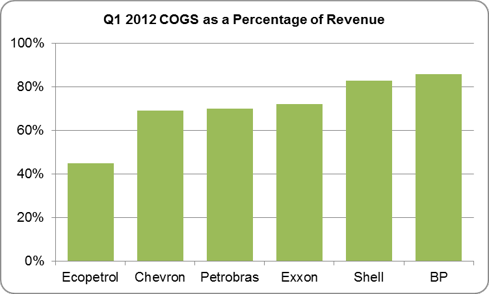 Sources: Ecopetrol Q1 2012 results, Chevron UBS Global Oil & Gas Conference presentation, Shell Q1 2012 Results, BP Group Results Q1, Exxon 1Q12 Earnings Presentation.
However, when it is considered that the company's level of production is lower than the majority of its peers, the conclusion is that it is not operating as efficiently as those peers. Much of these high production costs can be attributed to the Brazilian government's strict local content rules that require 65% of the goods and services used in production by Petrobras must be locally produced in Brazil. This has not only impacted Petrobras costs but also led to significant delays in the delivery of mission critical equipment.
It also increases the degree of counterparty risk faced by Petrobras because, besides not being able to source the highest quality most cost effective equipment, the expertise may not exist in Brazil to produce specific equipment, particularly the high tech deep sea equipment required to access the deep-water pre-sal reserves. There have also been concerns regarding costs, Brazil's high taxation of manufactured goods and a lack of supply.
Inability to increase production
For the first quarter 2012 oil production in Brazil rose by 2.2% QoQ and 1% YoY to 2.07 million barrels per day. This can be attributed to the company's struggle to acquire the drilling equipment and platforms needed from local and foreign shipyards to tap the deep-water pre-sal oil reserves. As a result Petrobras was not able to take full advantage of higher oil prices over the last eight months and which are now declining. However, despite the issues that the local content requirements have created for the new CEO Maria das Graças Foster has embraced them and highlighted the importance complying with this policy regardless of the impact on Petrobras and its beneficial owners.
Lost profitability and fixed gasoline prices
The Brazilian government has a policy of fixing gasoline prices and this has become a critical part of the policy measures being undertaken to restart the Brazilian economy, particularly as the costs of transport are closely linked. In the past this has had a significant impact on Petrobras' profitability, because regardless of the costs of production and rising oil prices, the gasoline price has remained fixed. This has prevented Petrobras from taking advantage of the higher oil price or passing costs on to consumers to maximize profitability.
However, for shareholders and investors, it has reached a new level of farce in the first quarter of 2012. As a result of Brazil's high population and soaring demand resulting from the recent economic boom, Petrobras was unable to expand refining and production capacity quick enough to meet demand. This saw the company importing gasoline to sell domestically and, despite the cooling Brazilian economy, gasoline demand has remained strong. All of which saw Petrobras import gasoline to meet demand and then sell that gasoline at a discount, with every unit sold contributing to losses and not profit. As a result Petrobras refining operations have lost around $7 billion over the twelve month period ending in the first quarter 2012.
It is my belief that this can only worsen for Petrobras over the short to medium-term. With the government focused on controlling inflation and keeping interest rates low in order to kick start the economy combined with lower than expected economic growth, a weak currency and falling oil prices it is highly unlikely that there will be an increase in the gasoline price anytime soon.
Oil prices
China's economic slowdown, combined with the ongoing fallout from the deepening European financial crisis, have triggered global economic slowdown and seen a decline in the price of oil. This has caused prices to drop significantly, by over 20% since March 2012, which is directly affecting Petrobras profitability. It is likely that this downward price trajectory will continue in the immediate future, despite some supply side constraints helping to negate the reduced demand. This certainly doesn't bode well for Petrobras increased profitability over the short-term through oil prices and I believe will place further downward pressure on the company's revenue. Furthermore, Petrobras, inability to maximize production for the reasons explained earlier has prevented it from being able to profit from the higher oil prices that existed for the last six months.
Slowing Brazilian economy
A rapidly slowing Brazilian economy has also had a direct impact on Petrobras revenues and profitability. Since reporting a GDP growth rate of 7.5% in 2010, Brazil's economy has slowed considerably, with the country experiencing GDP growth of only 2.7% for 2011, which has dropped to 1.89% for the first quarter of 2012. Not only does this have a direct impact on domestic demand for oil but it has also seen the Brazilian government embark on an aggressive economic program designed to kick start the economy. The elements of this have had a direct impact on Petrobras' profitability and share price.
Brazilian government policy to restart the economy
A key measure implemented by the government to restart the economy has been to aggressively drop official interest rates, which have fallen from a July 2011 high of 12.5% to now be at 8.5%. This has seen a flight of capital, particularly the 'hot money' that was flooding into Brazil as a result of the high interest rates, causing the real to drop significantly in value against the U.S dollar. Since the start of 2012 the real has fallen in value by 11%. This has been a significant positive for Brazilian exports making them more attractive but it is bad for Brazilian companies with stock prices denominated in U.S dollars. This has accordingly placed downward price pressure on Petrobras' U.S dollar denominated ADRs listed on the NYSE.
It has also having a significant impact on those Brazilian companies that have U.S dollar denominated debt, primarily because it has caused the real value of the debt and its servicing costs to rise dramatically. In fact for those companies with significant portions of U.S dollar denominated debt it has brought into play debt covenants forcing them to renegotiate debt, most likely at higher interest rates. Petrobras has significant debt holdings totaling $76 billion, denominated in U.S dollars, which has obviously seen the interest costs rise significantly since the plunge in value of the real.
Rising economic nationalism and political risk
The current Brazilian government of President Dilma Rousseff is highly interventionist in nature and regularly intervenes in the Brazilian economy to ensure that its economic and ideological agenda is being met. This has seen the degree of political risk within Brazil rise significantly.
Petrobras is not the only Brazilian commodities major to feel the imposition of the Brazilian government's interventionist policies. Chevron is battling the Brazilian prosecutor's office regarding civil and criminal charges that have been laid over two oil spills that occurred in November 2011 and March 2012, with the government seeking over $11 billion in damages. While Vale (NYSE:VALE), is also currently embroiled in a dispute with the government concerning the collection of taxes levied on its foreign earnings.
The current government has also publicly stated on many occasions that the oil wealth contained in the pre-sal fields has been earmarked for use in its social development and poverty alleviation programs. This I believe only indicates further government intervention in the operations of Petrobras as it is used as a policy tool to meet the governments ideological and social policy commitments. I also tend to lean to a more cynical view that this commitment is more about ensuring political popularity and creating an historical legacy than sound economic management.
These events only confirm the highly interventionist and economic nationalist program of the current Brazilian government, which has further unnerved investors, seeing many choose to exit Brazilian companies as a result of this rising political risk. In fact until the degree of political risk falls, it seems that it would be prudent for investors to avoid substantial exposure to Brazilian companies.
Future outlook
Despite these many negatives that are directly impacting the value of Petrobras, there are certainly a number of catalysts for growth. The key task for investors though is being able to predict the point where value will be delivered. Obviously the vast oil reserves that are estimated to exist in the pre-sal fields, upwards of 50 billion boe provide Petrobras with tremendous potential.
However, accessing these reserves is a tremendous technical challenge for a number of reasons. These include the depth and thus pressure at which the drills must operate plus the salt shifts that occur during drilling. These must be compensated for while the oil moves out of the reservoirs at which time it is extremely hot and must pass through wellheads that are only a few degrees above freezing, all while they are mixed with highly corrosive gases. These technical challenges will see Petrobras require considerable investment and assistance if it is to realize the potential held in the pre-sal reserves. Obviously the cost of extracting these reserves will therefore be quite high and the current policies of the Brazilian government are already having a significant impact on the company's profitability.
Four year business plan
The company's recently released business also appears to be overly optimistic particularly when the company's projected increase in production and spending is considered. There are many aspects of the plan that have left investors feeling particularly under-whelmed. The two factors that have contributed to this are the company's forecast future production to 2020 being reduced by 11% to 5.7 million barrels of oil equivalent per day (boepd).
Then there is the issue of financing the plan, with Petrobras committing to spend $236.5 billion on the basis that Brent crude prices will remain in the $90 to $100 per barrel range and that there won't be a rise in domestic gasoline prices. This has led many analysts to describe the plan as fiction unless domestic gasoline prices rise. It is clear that without this occurring over the short to medium-term, Petrobras will continue to bleed red ink from its refining operations as it imports gasoline to sell at a discount to meet domestic demand. Yet as I have discussed earlier, the likelihood of a gasoline price rise occurring with the Rousseff government is extremely unlikely. All of this means that the investment plan will fail and once again Petrobras will fail to perform and deliver value for investors.
Current valuation
Currently there have been a number of market commentator and analysts stating that Petrobras at its current price is a particularly compelling value investment. They have formed this view because it is currently trading at a 35% discount to its book value per share with a price to earnings ratio of 6, a dividend yield of 6% and an earnings yield of 14%. However, when we consider that the book value of Petrobras is inflated with the balance sheet showing $45 billion in intangible assets and remove these from the balance sheet the company's book value per share drops by 23% to $21.72, changing the current price to a 15% discount. I would also argue that the current degree of political risk in Brazil should see investors seeking an earnings yield of at least 12% to 14%. Even on this basis Petrobras valuation appears to be just right, although I would urge caution on investors.
Where to next for investors?
Petrobras has tremendous potential as an oil producer. Not only does it already have considerable proven oil reserves but it has preferential access to the oil wealth of Brazil and vats estimated pre-sal reserves. However, at this time the company is unable to realize its potential because of the policies and behavior of the Brazilian government. The government is not content to benefit from the substantial dividend that its majority ownership entitles it to, combined with the substantial taxes and royalties paid by the company for its oil concessions. It also believes it is entitled to triple-dip using economic policy and its position at the board table to force the company to use even more of its earnings to assist Brazil's economic development to the detriment of the company's other shareholders.
It is clear that the company is thoroughly held in the thrall of its majority owner, and that management is only able to act in accordance with the will its majority owner to the detriment of other shareholders. It is also clear that as long as the current government remains in place, Petrobras will be treated as a tool for furthering their economic, social, political and ideological agenda to the detriment of shareholders. This makes me believe that the combined private-public partnership represented by Petrobras will not work, because the goals of private investors are vastly different from the majority owners and current controller of the company the government. Until the government's policy towards Petrobras changes the company will never be able to unlock its true value and deliver the promised rewards to investors. This makes it a long-term play for highly risk tolerant investors who are not only investing in the company but taking a bet on the price of oil and the future potential of the Brazilian economy.