IHS Inc. (IHS) reported adjusted earnings after the bell today of $0.97 per share beating estimates of $0.94 by three cents, revenue was up 20% year-over-year to $387 million, slightly above estimates. Description of IHS business from the company:
IHS uniquely provides customers with a single-source for gathering, aggregating, integrating, analyzing and delivering critical technical information, as well as related analysis, insight and consulting services that helps them make critical business decisions, complete critical business processes and improve productivity.
The company slightly raised EPS guidance of $3.88 to $4.01 for the full year, on revenue of $1.53 to $1.58 billion, this compares to current analyst estimates of $3.97 on revenue of $1.55 billion. The stock is selling off about 5.5% in after hours going into the conference call, I believe because of guidance being a little light compared to estimates. However the company said it would have raised guidance further if not for headwinds the company is facing in foreign exchange rates and after the call the stock had recoved some down only 4.1%. IHS had traded up 1.4% to $105.84 per share on almost twice average volume during the day today. The company also announced that Conscientia Investment Limited will be selling 8 million shares, more than half their stake in a secondary offering. The company will not raise any money in this sale, and the sale is so Conscientia can raise money. The company believes this will improve liquidity in the stock.
The stock has been a winner, up about 50% from the lows late last summer, and is fully valued trading at 22 times forward earnings with long-term growth estimates of 17%. At $106 the stock has reached analyst price targets; however it is still rated as a buy.
IHS believes that global economy will continue to face challenges and uncertainty over the remainder of this year and into 2013. However the company's products are in demand as its customers attempt to navigate this uncertainty and its products are a very small part of its customer's total expediters. The fact that EMEA revenue increased 19% in the quarter and EBITDA was up 26% was positive given the difficulties in Europe.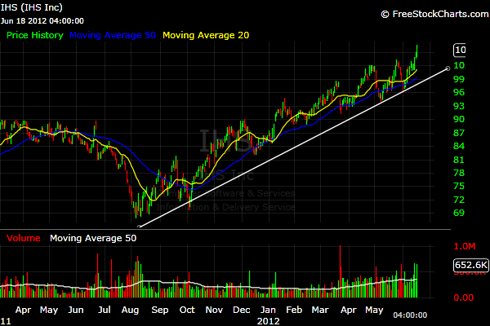 The chart of IHS has looked exceptional over the past 9 months and the 50DMA has provided key support on this uptrend. Today the 50 day is at $99.25 and if the move down after this earnings release comes down to test that level that could prove to be a jumping point for the next move higher.
Data sourced from: Company filings, and Yahoo!Finance. Chart from: Freestockcharts.com.
Disclosure: I have no positions in any stocks mentioned, and no plans to initiate any positions within the next 72 hours.