Tempur-Pedic International (NYSE:TPX) designs, manufactures, and distributes sleeping mattresses, pillows, and other related products primarily through retail channels. The stock has plummeted 72% over the past 3 months, mostly attributable to the overall equity market weakness and increasingly stiff competitions among mattress manufacturers. This has pressed management to lower the FY2012 guidance substantially. Prior to that, TPX's top line has historically grown at 33% and 28% in FY2010 and FY2011, respectively. Although I agree that the stellar growth is not sustainable, I still believe TPX's leadership position in the premium mattress market remains solid, and as such the recent sell-off is overblown. Additional facts that support my view on the stock include the following:
Analysts expect the top line to increase by 0.7% and 7.6% over FY2012 and FY2013, and EPS to decline 16.4% in FY2012 and recover by 12.4% in FY2013. Taking the growth prospects into consideration, TPX trades at a 3-year expected PEG of 0.43x, suggesting a substantial discount to the growth potential.

At $23.45 per share, the stock trades at 4.8x the LTM EBITDA and 8.5x the FY2012 estimated EPS. According to the comparable analysis below, despite the lackluster growth potential and elevated debt level, TPX has superior profitability and free cash flow generating capability relative to its industry peers. To measure the margin of safety, a very conservative valuation discount of 30% was applied on both the group average P/E and EV/EBITDA multiples to account for TPX's lower growth prospects and above-average leverage. The relative valuation model yields a stock value of $34.58, which is still 47% above the current price. It appears that the market has factored in a 50% valuation discount, which I believe is unrealistic given TPX's robust profitability and FCF margin.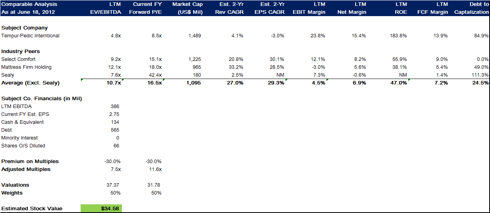 TPX's balance sheet remains strong. Although the firm is sitting on $134M cash and $565M debt, amounting to a net debt position of $431M, its robust operating cash flows and LTM interest coverage of 32x suggest the firm has ample sources to service the debt. The current and quick ratios are also healthy at 2.6x and 1.7x, respectively.

Insiders have demonstrated their confidence in the firm. There have been three insider buying transactions valued at $6.6M in total, and at an average cost of $23-$25, since the beginning of June.

TPX has a proven track record of beating both the revenue and EPS estimates. Over the past eight consecutive quarters, the firm has only slightly missed its revenue estimate once in Q1 2012.

The elevated short to float ratio of 12.6% implies potential price support from short coverage once there is a clear sign of operating stability.
Tables is created by author and financial data is sourced from company 10-Q, 10-K, press release, Yahoo Finance, YCharts, Wall Street Journal, Thomson One, Bloomberg and Morningstar.
Disclosure: I have no positions in any stocks mentioned, but may initiate a long position in TPX over the next 72 hours.