I have gotten some rather interesting feedback on this "beginners" series of articles. It appears that not only are newbies and beginners with a long-term horizon reading and learning from this series, but also some of the more seasoned investors who always like being reminded about the basics, and/or having their success reinforced with what they already know to be true.
Either way, the series has become a smashing success.
Let's Review Previous Articles
You can check out the first 5 parts to the beginner series of articles that will help get you up to speed, and ready for this chapter
Part 1 of the series sets the stage as it is precisely what the title states. It IS all about savings. Without a strategy to save, nothing else can follow.
Part 2 encourages that more emphasis is placed on managing, reducing and eliminating debt. When we spend more than we make we will never get ahead and simply be that rat in the race! Check this great article out for ways to live below your expenses to how to actually get there!
Part 3 finally takes the first bold step into actual investing and I identified a starting portfolio that we can work with beginners ad "old pros" alike;
If you bought the shares in these stocks when I first wrote the article you would all be calling me a genius. All of them have gone up nicely and you could have been off to a great start. Don't let the upward moves stop you from initiating a core position in each if you decide to.
GE, up and bullish
XOM, up and bullish
PG, up and bullish
JNJ, up and bullish
MSFT, up and bullish
They all have dividends that pay you to own shares, and the prices are right to open positions now!
In part 4 you can review the typical mistakes that all investors face or make. Not just beginners by the way. If you avoid some basic blunders you can also avoid selling low and buying high! We want to BUY low, and SELL high. Review this chapter for some basic steps to keep you focused!
In part 5 we began an important component for enhancing your portfolio value by using a basic strategy of covered call writing and selling naked put options to add to or open positions at the price you want. Review this article to learn the steps needed to implement this strategy as well as understanding some of the risks along the way.
Setting Priorities For Enjoyment Without Employment
Many younger investors have not even begun to think about whether they even want to stop working, or what they would do if the decide to stop working.
The fact remains that today's boomers are retiring in record numbers obviously, and it seems to contraindicate some popular theories as noted in this article:
"Boomers are leaving the workforce in droves. Given how lousy the economy has been the last few years, I found this a surprising retirement planning phenomenon. My guess would have been that most people would look at their diminished savings and conclude, given the continuing economic uncertainty, to stay on the job. But according to a new MetLife survey, that's just not the way it is."
Take a look at this wonderful graphic from MetLife: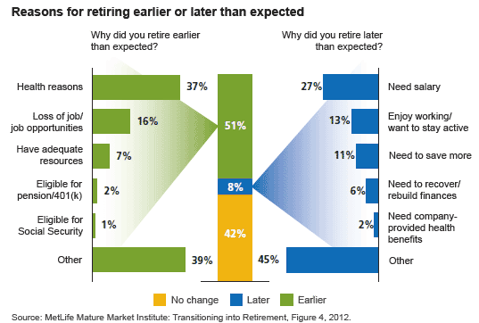 Click to enlarge
It basically says it all when trying to figure out why boomers are still retiring at different stages. I do not see the trend stopping either. Contrary to what most pundits will "spin", working forever is not something that boomers or younger folks truly want to do.
According to this article by the same author, boomers have set a list of priorities that are important to them as they move ahead with their plans for life after work:
"A new survey by the Consumer Federation of the Southeast examines what people older than 47 are thinking about as they contemplate retirement planning, what to do and where to live during their retirement years."
"Here are the top 10 things this survey found this 78 million-strong population wants the most:
Top-quality health care -- 96 percent.
Affordable housing -- 92 percent. Some 59 percent said they'd like to buy a different home.
A "warm and welcoming climate" -- 86 percent, with 62 percent adding they'd like some cooler months.
Low state and local taxes -- 81 percent.
Affordable recreational opportunities -- 80 percent, with 75 percent saying availability of arts and cultural opportunities is especially important.
Good services for seniors -- 75 percent.
Small- to medium-size community -- 70 percent.
Close to an ocean or other big water -- 60 percent.
Proximity to a university or other lifetime learning opportunity -- 50 percent.
A community that welcomes diversity -- 50 percent."
As a younger investor or beginner, review the list carefully as not much will change when YOU decide it is time to leave the workplace.
Being prepared for these will also go a long way in keeping your discipline and focus on how and why you are saving, spending wisely, and investing.
Keeping, and sticking with your strategy WILL pay off. It really, truly will! In this wonderful article the "new" retirement has 7 rules to consider and each one will offer you even more insight as to how and why, and when, YOU could be ready for "enjoyment without employment"
My Opinion
Today is as good a day as any to begin planning for your future and how you want it to be. By investing in large cap dividend paying blue chip monster companies, you will be well on your way to a secure future with far less risk than you have been led to believe will exist.
By opening long positions in the core portfolio I mentioned above (and there is no better time than now for the long term), you will begin positioning yourself for the long term growth, stream of income, and relative security for your personal future.
Do not buy shares of each all at once. I would take small bites of a 1/4 position stake in each. Either weekly or monthly whichever you feel more comfortable with.
The future is in your hands now. What are you waiting for?