Everybody likes to be the first one to know. Whether it's following an up and coming band, getting on the bandwagon for an NBA team before they go deep in the playoffs, or picking a winning stock before the turnaround and the big move happens, we take pride in anticipating the trend, in being hip to what's new. In most of these cases, the pride is silly; does it really matter if you liked a band before they blew up when you can just download the whole back catalog and catch up anyway?
With stocks, it does matter and it doesn't. Obviously, investors want to be ahead of a move so they can make the most money off of said move. At the same time, one shouldn't have any pride about where they hear about a stock. It doesn't matter if the stock represents a company that sells products one loves, or somebody in the family works at the company, or there was a nice write-up in Barron's about a stock; the investor should be source-neutral, taking the initial tip as a cue to do the research and find out if the stock's worth it.
All of which is to say that I saw the interview with Spectra Energy's (NYSE:SE) CEO Gregory Ebel on Jim Cramer's Mad Money last week. The CEO of the natural gas pipeline company told a story about a steady earning business with exposure to interesting and promising parts of the natural gas sector, recent regulatory approval of a major project, and a solid and growing dividend. It sounded like a compelling story, and being always on the lookout for stable, attractive ways to play the energy sector, I thought I'd look into it. What I found is that Spectra can play an important role in stabilizing a diversified portfolio.
Spectra Energy is an S&P 500 company based in Houston, Texas. The company has four separate units: U.S. transmission and storage; gathering, processing, and transmission in Western Canada; transmission, sale, and delivery of natural gas in Ontario, Canada; and a 50% share of DCP Midstream (NYSE:DPM), a firm that processes natural gas and markets natural gas liquids (Phillips 66 (NYSE:PSX) owns the other 50%). Spectra also owns a 64% stake in its MLP, Spectra Energy Partners (NYSE:SEP), which supports the first of the listed units.
Running pipelines is a fee-based system for Spectra Energy. This helps the company lock in earnings over the long-term, and shelters earnings from the ups and downs of natural gas as a commodity. As Ebel said in the above interview, "it's like building a hotel and selling out every room for ten years, and getting paid regardless of whether people stay in the hotel or not". Most of Spectra's exposure to the price of natural gas, besides the underlying demand to renew these contracts, comes through DCP Midstream, and that represents only 20% of the company's EBITDA in Q1 of 2012, for example.
With such a steady business, it is not surprising that Spectra has done well in terms of earnings. The company has been profitable throughout its five years of independence. More significantly, the company has exceeded its earnings guidance in each of the last three years. Spectra did miss earnings estimates for Q1 of 2012 due to the warm winter and low natural gas costs, but they have not backed away from guidance of $1.90 EPS, which would be an increase of over 7% from last year's levels. For a steady company, that is a decent growth rate.
Spectra is positioned to take advantage of a couple of interesting possibilities to improve earnings in the years to come. The company just received federal approval to build a pipeline extension to deliver natural gas into New York City and New Jersey. The $1-1.2B pipeline should go into operation by late 2013 and be an earnings driver almost immediately thereafter. Ebel also mentioned during the interview that the company is interested in building pipelines in Western Canada that would allow for shipping liquefied natural gas abroad to higher-price markets. This has been a consistent theme in Spectra's conference calls, but they target this possible capital spending for no sooner than 2015, so that's part of the longer-term picture. Spectra also has two smaller projects, one connecting the Marcellus shade region to the Rockies, the other related to Philadelphia, that should come online this year.
The other major piece in the Spectra puzzle is its dividend. The company has raised the dividend payout four times since coming public. This would be an impressive figure for most S&P 500 companies, especially considering the overall market climate in the past five years, but for pipeline companies this is fairly ordinary, as the chart below shows. Of more value going forward is the company's vocal pledge to raise dividends by at least $.08 each of the next two years to hit a payout ratio of at least 65%. If the company follows through on that minimum, the yearly dividend in 2014 will be $1.28, an increase of 45% over seven years.
Next is to consider how Spectra Energy stacks up to its peers. Without further ado, a valuation table for Spectra and other natural gas pipeline plays of similar size: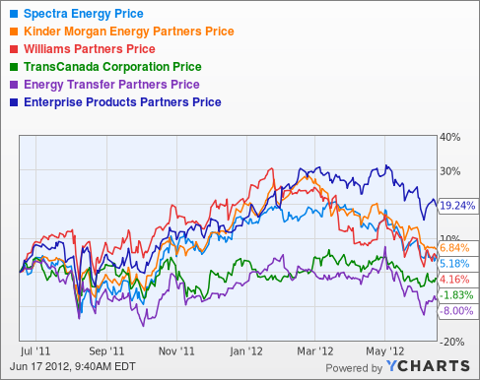 Click to enlarge
(Sources: TDAmeritrade, WSJ)
As of Q1 2012

Spectra Energy

Kinder Morgan Energy Partners

(NYSE:KMP)

Williams Partners

(NYSE:WPZ)

Trans-

Canada

Corp. (NYSE:TRP)

Energy Transfer Partners

(NYSE:ETP)

Enterprise Products

Partners

(NYSE:EPD)

Market Capitalization

$18.3B

$25.7B

$16.4B

$29.2B

$10B

$42.5B

Quarterly Revenue Growth (Y-over-Y)

-4.20%

-5.83%

6.78%

-10.23%

-22.64%

8.01%

Yearly Revenue Growth

8.21%

4.94%

17.76%

13.33%

16.40%

31.86%

EPS Growth (Annual)

6.80%

11.76%

6.44%

13.76%

-30.83%

36.33%

Estimated Earnings Growth (next 3 years)

4.35%

15.06%

-5.18%

5.35%

34.64%

4.82%

Earnings 2011

1.81

1.72

3.69

2.26

1.1

2.38

Earnings 2012 (Est.)

1.79

2.3

3.23

2.3

1.65

2.55

Earnings 2013 (Est.)

1.96

2.48

3.25

2.46

2.38

2.67

Free Cash Flow/Share 2011

0.42

4.5

4.05

0.96

-0.35

-0.63

2011 P/E

15.48

43.86

14.06

18.32

39.65

20.08

2012 P/E

15.65

32.80

16.06

18.00

26.43

18.74

2013 P/E

14.29

30.42

15.96

16.83

18.32

17.90

2011 P/FCF

66.69

16.76

12.81

43.14

neg.

-75.86

PEG Ratio

3.56

2.91

neg.

3.42

1.14

4.17

Price (as of June 15th close)

28.01

75.44

51.88

41.41

43.61

47.79

Dividend

1.12

4.8

3.11

1.72

3.58

2.51

Dividend Yield %

4.00

6.36

5.99

4.15

8.21

5.25

Price Movement last 12 Months

4.71%

6.66%

1.07%

-1.71%

-7.80%

17.77%

Analyst Ratings

(# of analysts)

2.95

(19)

3.06

(18)

2.85 (13)

2.63

(8)

2.81 (16)

2.5 (18)

Number of Dividend Hikes (last 5 years)

4

13

13

5

1

18

Percentage the Dividend has Risen

27.27%

36.36%

41.36%

29.41%

2.88%

28.06%
(Note: YCharts used a different starting date for the price movement of the last 12 months, hence the slightly different figures between chart and table)
Spectra comes in about average for past revenue and earnings growth, and on the low end for future growth. At the same time, Spectra is the cheapest on a forward P/E basis. On top of that, the analysts' estimates are lower than the company's guidance of $1.9 EPS and earnings growth goal of 7-9% through 2014. At those numbers, the P/E for 2012 and 2013 (at $2.03 EPS, a 7% growth) would be 14.74 and 13.8 respectively, while the PEG ratio would be 2.21. Considering many of its peers trade at 2013 P/E's of 17 or 18, there is some room for Spectra to appreciate.
That said, Spectra's dividend history becomes less impressive when viewed in light of its peers. Each of these companies, whether due to MLP status or a longer history of payouts, has a significantly higher dividend yield or more dividend increases over the past five years (with the exception of Trans Canada, which is only slightly better). If Spectra, which has been independent for a shorter period of time, can follow through on its dividend growth plans for the next two years and beyond, it might be able to establish a similar track record.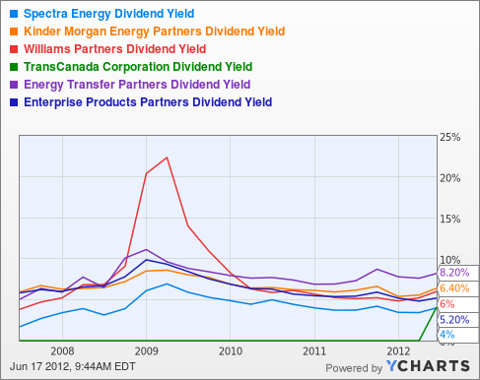 Click to enlarge
SE Dividend Yield data by YCharts
The last two concerns for Spectra involve the company's cash flow and its debt. While the company has strong, consistent operating cash flow, as befits a steady, pipeline operating company, most of that cash flow gets plowed back into capital expenditures as the company seeks to build out future pipelines. This leads to limited free cash flow that goes negative after counting debt expense and dividend payments. The natural result is that the company has a high level of debt, with a current ratio of .57, a long-term debt to equity ratio of 1.22, and a debt to market capitalization ratio of .61.
There are mitigating factors for these concerns, however. As the table shows, free cash flow is not necessarily a huge metric for pipeline operators - only KMP and WMZ had strong free cash flow last year. A quick eye scan of the balance sheets for each of the companies in this group finds each one with a current ratio well under 1 and a long-term debt to equity ratio over 1, suggesting that Spectra's debt levels are hardly unusual. The company also has investment grade ratings from Fitch and Moody's; the latter describes Spectra's portfolio as giving "it a lower business risk profile than some other diversified pipeline companies," despite being in a, "deeply negatively free cash flow position."
Spectra, for its part, predicts its primary sources of cash to cover 2012's dividends, maintenance CapEx, and 60% of expansion CapEx, leaving about $500M of the expansion CapEx to be funded by debt. The company has also achieved a 14% return on CapEx over the past five years, suggesting that management knows how to get value out of its investments. The company is confident about its balance sheet, and barring any huge shocks that could affect any business, this confidence seems justified.
Where does that leave us as investors? Spectra's overall profile is a stable pipeline business with a solid dividend and some upside via its natural gas liquids business in the DCP Midstream stake. The performance has indeed been steady, and while the dividend is not quite as good as its peers, it should grow over the coming years. If the company meets or beats its guidance, as it has done consistently in the past, a 17x 2013 multiple (at the previously extrapolated $2.03/share earnings for 2013) would give us a 34.51/share target price. That would be a 23% increase on current levels and 7% above its 52-week (and historical) high hit this past March. The dividend tacks on 4% at its current level and would still yield about 3.5% if it goes up .08 as expected and the stock appreciates that 23%. The company targets an annual shareholder return rate of 12%, which could be a good floor for our estimates, against the more optimistic 27% I just calculated.
In any case, Spectra could be attractive as a steady utility play for investors. The company is committed to maintaining and raising its dividend, has a business that is 80% consistent, with the other 20% exposed to natural gas, which may be past its bottom at this point. Spectra is positioned to take advantage of intriguing projects going forward that should build its pipeline, fee-based, stable cash flow. This is unlikely to be a home run investment, but as a solid, getting on base play, investors could do worse than Spectra.
So while you certainly didn't hear it first, you can well hear it again because it's not too late: Spectra is a solid pick. No need to get too hip about this.
Disclosure: I have no positions in any stocks mentioned, but may initiate a long position in SE over the next 72 hours.