Four wheels move the body. Two wheels move the soul.
~Author Unknown
There are many Harley Davidson (NYSE:HOG) enthusiasts throughout the world today. Many of them are enthusiasts for the sake of owning and riding the company's American made motorcycles. Savvy investors have discovered how this $11.22 billion large-cap company can be a profitable addition to their portfolios. The thrill of investing can be just as exhilarating as the thrill of riding.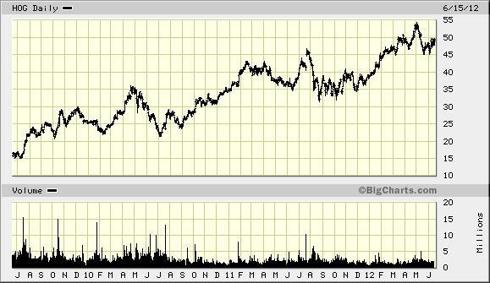 Click to enlarge
Harley now has 57% market share in the United States. Exciting new motorcycles such as the Seventy-Two and the Softail Slim offer riders more options. The Seventy-Two appeals to chopper enthusiasts, while the Softail Slim offers a personalized fit through a variety of accessories. Harley's Superlow model has found a niche among female riders. The Forty-Eight is another popular model that many riders have embraced.
Currently, Harley Davidson is fairly valued on the low end with a forward PE ratio of 13.69, a PEG ratio of 1.21, and a price to book ratio of 4.4. The stock has pulled back from its 52 week high of $54 and is now trading at about $49.
Harley's financial statistics are as nice looking as its bikes. Harley has a double digit profit margin of 11.82% and an operating margin of 17.56%. The company has operating cash flow of $916 million and earnings per share of $2.78. It also has 1.75 times more current assets than current liabilities, so it can handle its short-term debt like an experienced rider handles his Hog.
Harley has exceeded earnings estimates in its last four quarters. The company is expected to grow earnings annually at 14.4% for the next five years. This is higher than the expected earnings of the average S&P 500 company of about 10.5%.
The company pays a modest dividend of 1.3%. If dividends are reinvested, a total CAGR of 15.7% can be achieved. The company's growth plus dividends should allow a $1000 investment to more than double to be worth about $2070 in five years.
Harley Davidson's growth is being experienced domestically and internationally. Here are some Q1 2012 highlights:
U.S. sales increased 25.5%
European sales increased 1.4% in a challenging economic environment
Latin American sales increased 85% with strong performance in Brazil
Asia-Pacific sales increased 25.4%
Canada sales increased 1.5%
The company envisions international expansion as a core area of future growth. Harley set a goal of opening 100 - 150 new international dealerships between 2009 and 2014. Since 2009, Harley has opened 67 new international dealerships with about two-thirds in emerging markets. This continued growth should allow Harley to meet or exceed its earnings estimates and continue to reward shareholders.
Disclosure: I have no positions in any stocks mentioned, and no plans to initiate any positions within the next 72 hours.