Apple (NASDAQ:AAPL) has experienced an extremely volatile 2012 with 5% price swings becoming the modus operandi rather than the exception. I have recommended option strategies on Apple since 2010 with positive results (remember past performance is not indicative of future results). For reference, please view the first and other articles in the series to fully understand the strategy and its strong potential returns. This strategy is oriented towards long term investors with the objective of simultaneously generating income and reducing your effective cost basis in the underlying stock. In essence the investment objective is to capitalize on Apple's volatility by selling out-of-the-money options to generate weekly income without sacrificing long-term returns. I perform a weekly analysis of Apple's stock, options, recent news, and competitive analysis. Even if you have no plans to engage in the options market this is your one-stop primer for the critical Apple developments from the past week.

Click to enlarge
(Source: Yahoo Finance)
A brief recap of this week in Apple, which was down $13.52 (-2.3%):
Apple started to build up momentum ahead of the World Wide Developer Conference and was a mere 3% away from returning to the psychological barrier of $600. The media was disappointed at Apple's announcement, primarily at the lack of the iPhone 5. However, most analysts thought that WWDC met expectations and solidified Apple's competitive position. Apple now utilizes WWDC to shine the spotlight on Macs and iOS while saving the iPhone hardware reveal for the fall.
Many wonder why Apple is not overhauling iOS but I ask, does it really need to? The only phone that offers true competition currently is the Samsung Galaxy S3 but iOS continues to be more polished than Android. Apple continues to improve the Siri personal assistant to differentiate itself from competitors. Despite still officially being a "beta" service, Siri continues to be a strong selling point for the iPhone 4S and Siri 2.0 will only drive more iPhone upgrades.
The iPhone 5 will be the talk of the Internet when it is officially announced but Apple will also enjoy tremendous success selling a $99 iPhone 4S later this year. This type of catalysts has driven consensus analyst price targets to approximately $753. For reference, I maintain a $720 price target for the company and am quite comfortable with it. The summer time is typically quiet for official Apple news but this year we have both the third quarter 2012 earnings announcement in July and re-initiation of the dividend in the third quarter. iPhone 5 rumors will really start to heat up in August/September and baring any catastrophic macroeconomic news, Apple should finally resume its climb back to the mid $600s in the near-term. This would imply a very reasonable forward PE in the mid-teens. As I continue to stress, Apple is now an Asian-Pacific/Japan story as it derives most operating income from those geographic regions. The United States and European developments are certainly important in the context of the global economy but Apple is uniquely positioned with a very diverse customer base.
Tim Cook recently provided one of his most insightful interviews ever at the AllThingsD conference and it was a treasure-trove of information for investors. While Cook followed the typical Apple clandestine nature made famous by his predecessor, there were quite a few nuggets of wisdom that he shared:
Jobs frequently made "180-degree turns if needed," indicating that Apple might be backtracking on its opposition to a smaller iPad or a larger iPhone
Key iPhone/iPad components are built in the United States; Cook would like to see Apple utilizing more US manufacturing
On intellectual property: "We want other people to invent their own stuff"
On smart phone market: "I wouldn't say we dominate it. I'd say we have the best phone." Enterprise is "a huge opportunity."
Cook has recently met with "people in Hollywood"
On Facebook integration: "Stay tuned on this one"
On Siri and artificial intelligence: "We are doubling down on it"
Refused to explicitly comment on iPad Mini, New iPhone, iTV, or any other rumored new products
From a competitive landscape standpoint this week focused on Microsoft and its partner Nokia. Nokia's rapidly deteriorating financial position threatens Microsoft's Windows mobile strategy. In an unusual change of roles, all eyes will be on Microsoft this week as it is widely rumored that the company will introduce its own tablet computer to compete directly with the iPad. Microsoft always demands respect when it enters an industry but Microsoft will have to prove that it has a true advantage over competitive offerings. If we enter our time machine we can remember that Microsoft announced the Zune in 2006 to compete with the iPod, and well the rest is history. Microsoft has always appeared to be envious of Apple's control over both the hardware and software; in contrast Microsoft has been forced to rely on the likes of Dell (NASDAQ:DELL) and Hewlett-Packard (NYSE:HPQ) to execute the Windows vision. With Windows 8 on the horizon, Microsoft may simply want to prove that its latest operating system can offer a true competitor to iOS. For these reasons, I do not believe that a Microsoft tablet will present any real threat to Apple's dominance. As much as Microsoft appears to diversify with Xbox 360 and other projects, this is still all about Windows and Office. Apple investors have little to worry about in the near future.
Below I present three possible scenarios and the potential returns for the Apple options. The first scenario represents a negative outlook for Apple while the final two scenarios are more reasonable. These scenarios are just projections and there is no guarantee that they will come to fruition. Even if you are optimistic it is important to consider both positive and negative circumstances in order to stress your assumptions. As a general rule, selling calls with higher strike prices has greater potential return but additional risk of loss due to the lower (or lack of) downside protection. For more information on the fundamentals of covered calls, consult Investopedia.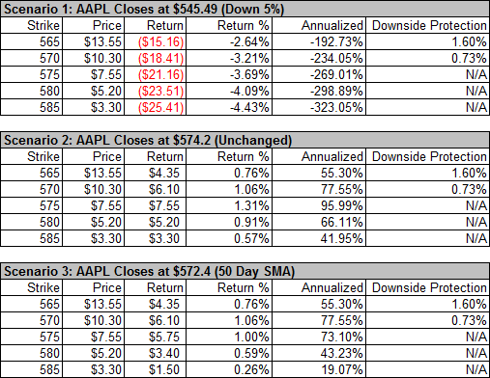 Click to enlarge
Additionally, if you would like even more information, I have prepared a sensitivity analysis for absolute return and percent returns, respectively. After studying the information above, these two charts make it easy to pick a strike price based on where you believe Apple will close at the end of the week. Estimate where you believe Apple will close and select the strike price with the highest return.

Click to enlarge
With this information, executing a buy-write on AAPL June 22 (Weekly) 585s is the optimal risk-return strategy as an opening Apple transaction. If you are uncomfortable with this strike I would consider a buy-write in the range of 570-590. This makes for an excellent trade if you are currently not long Apple; however, if you are a long-term Apple investor I would not sell any calls this week as Apple has declined so significantly in the past month. Even if you are extremely bullish you can still profitably sell covered calls; Apple is volatile enough that you will have opportunities to repurchase on further dips. An alternative approach is to sell out-of-the-money 570 puts and collect the premium without having to purchase the stock outright. Based upon Apple's volatility I think this might be the best strategy of all for this week. Note that if the stock declines to the strike price, you are obligated to buy the stock (or closeout the position). You should always consider the risk factors (particularly with naked calls or puts) raised in this article in light of your personal circumstances (including financial and taxation issues) in consultation with your professional financial adviser.