Dean Foods (NYSE:DF) announced Friday morning it would sell 18.7 million shares in a secondary offering. The 13% dilution is expected to be "significantly offset" by a $20 million reduction in interest expense. At current prices, the company should raise nearly $400 million through the sale. $20 million is 5% of that - so "significant" seems to be in the eye of the beholder.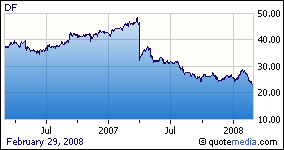 Even better, the offering comes because "operating results were below the expectations we had when we recapitalized the balance sheet last March." By Dean's logic, apparently, you should issue debt to pay shareholders when the shares are $45 and issue shares to pay off debt if the shares are $21. And I thought Dean only got on the wrong side of every dairy position. They are wrong on market positions as well.
Dean also reiterated their guidance, which was below the consensus estimate. I guess we now know why.
If there is any bullish read on this story at all, it is the possibility for a brief relief rally after the secondary closes and the overhang clears on March 5.
Disclosure: William Trent has no position in the companies mentioned.