The fluctuating price of oil and natural gas can cause unpleasant swings in the stocks of companies that are closely tied to the price of the underlying commodity. These large price swings can be unpleasant for investors. For those investors who wish to invest in energy related entities without the risk tied to commodity prices, the midstream Master Limited Partnerships (MLPS) offer high yields for stable income plus capital appreciation.
MLPs handle the storage and transportation of oil and natural gas related products through their terminals and pipelines. They receive fees in return for providing these services. They are the toll takers of the commodity world. It doesn't matter if oil is priced at $85 or $120. The oil still needs to travel from point A to point B. These partnerships are among the most consistent long-term energy investments.
 

Yield

Price/Net Asset Value per unit

Operating

Cash Flow

Kinder Morgan (NYSE:KMP)

6.4%

3.69

$3.01 Billion

Magellan (NYSE:MMP)

5%

5.2

$519.7 Million

Enbridge (NYSE:EEP)

7.3%

2.15

$1.04 Billion

ONEOK (NYSE:OKS)

4.8%

2.67

$1.07 Billion

Energy Transfer (NYSE:ETP)

8.2%

1.53

$1.31 Billion
Kinder Morgan Energy Partners has raised its cash distribution every year since 1997. This should be a key consideration for choosing a reliable MLP so that you can gauge what to expect in the form of payouts. KMP operates about 29,000 miles of pipelines and 175 terminals. KMP is fairly valued on the low end with solid cash flow and a healthy 6.4% cash distribution yield.
Magellan Midstream Partners had 40 cash distribution increases since its IPO in 2001. MMP operates 9,600 miles of petroleum pipelines, 1,100 miles of ammonia pipeline, and various terminals. It has a great balance of high yield along with capital appreciation.
Enbridge Energy Partners operates over 14,000 miles of pipelines for crude oil and natural gas. It also has a storage capacity of over 18 million barrels. EEP is attractively undervalued as it trades under 3 times net asset value per share. It has steadily increased cash distributions over time since 1996.
ONEOK Partners increased its cash distributions by about 59% since 2006. The partnership expects to achieve 15% - 20% annual distribution growth in 2013 and 2014. It is undervalued as it trades at less than 3 times net asset value per unit. ONEOK owns one of the premier U.S. natural gas liquids (NGL) systems connecting the mid-continent and Rocky Mountain regions to key markets.
Energy Transfer Partners is one of the highest yielding MLPs. Although the yield is high, the partnership has not increased the payout since 2008. The partnership is undervalued as it trades at only 1.53 times net asset value per unit.
ETP operates approximately 23,500 miles of natural gas pipelines and over 1,400 NGL pipelines. It recently announced that it would acquire Sunoco which diversifies the partnership into crude oil.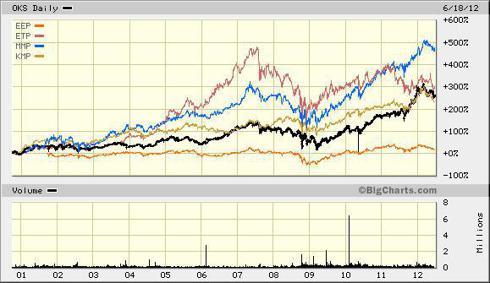 Click to enlarge
Conclusion:
Master Limited Partnerships are a great way to collect steady income from cash distributions. All of these look like compelling long-term energy investments. Magellan has done well with capital appreciation over time, but it is currently valued higher than the others. However, it is still fairly valued and looks like a solid combination of yield and capital appreciation well into the future.
Overall, there may not be a right or wrong answer with these partnerships. Investors just need to choose the one they feel most comfortable with.
Disclosure: I have no positions in any stocks mentioned, and no plans to initiate any positions within the next 72 hours.