Intuitive Surgical (NASDAQ:ISRG) is wonderful company caught in bear market.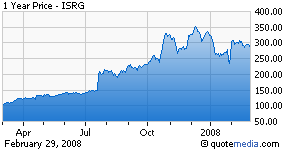 Even the high flying market leaders take a hit in bear markets, and the highly profitable, rapidly growing Intuitive Surgical has been no exception.
ISRG closed Friday at $281.92, up from it's 52-week low of $104.07 and down from its high of $359.59.
With the trailing PE at 76 and the forward PE at 41, the stock's PEG ratio is 1.58. That's attractive in a bull market, but what about in a bear market? While the PEG ratio looks attractive, ISRG looks richly valued in terms of its trailing 12 months price to sales (18.56), enterprise value to revenue (17.34), enterprise value to EBITADA (46.98) and price to cash flow (53.48). Those ratios may justified, however, by ISRG prospects, which look virtually unlimited. And the company has no debt.
To Morningstar.com, ISRG still looks over valued despite the recent price decline. The independent advisory service gives the stock a fair value estimate of $175 and says consider buying at $113.80 and consider selling at $262.50. That means, in Morningstar lingo, that the stock gets only one star out of a possible five. The market seems to be coming around to Morningstar's point of view.
Point and figure charts suggest the stock is headed to $252.00. It fell below its $284.00 support last week.
ISRG's July 280 puts closed Friday at $31.60. Two contracts traded, leaving open interest at 282 contracts. This suggests the stock's bears think it will sink to $248.40 before the contract expires. The ISRG 280 calls suggest the stock could rally to $321.10. On Friday, one ISRG July 280 call contract traded leaving open interest at 136 contracts. The bears seem more convinced at the moment, according to the data on Yahoo Finance.
Many of Intuitive Surgical's major customers, hospitals, are deep into debt as usual. Historically, this has been acceptable because of their steady cash flow. But at least a few and probably many major medical centers and hospital chains are seeing their interest costs soar in the short term auctions markets, and they quite likely are delaying some major capital expenditures until the credit markets loosen and become reasonably predictable.
Thus, although numerous financial publications and advisory services are hot for ISRG, investors are showing some concerns. If they're not selling a lot of ISRG, they're on a buyer's strike.
Disclosure: I have no position in ISRG but my investment club does.