In the last bear market, we all learned that "earnings" aren't necessarily earnings; now we are learning that "cash" isn't necessarily cash and "AAA" isn't necessarily AAA. To repeat what I have stated on many occasions now: This is not the time to be reaching for yield. As I shared in November, July and May, companies that are well-capitalized with a history of sustainable dividend growth may provide shelter from the storm. Part of my thesis is that these conservative growth stocks will become increasingly in demand as aging baby boomers transition their accounts towards higher income generation and less speculative growth. With pressure on companies that traditionally access capital markets to fund growth, many traditional income-oriented securities (REITs, MLPs) have and may continue to perform very poorly.
The screen that I continue to monitor (using StockVal) is designed to identify companies that pay sustainable and growing dividends that yield in excess of 2%. Specifically:
2% minimum dividend yield (valuation)
150% maximum of five-year median forward PE (valuation)
5% minimum annualized revenue-per-share growth for the past three years (growth)
5% minimum annualized earnings-per-share growth for the past three years (growth)
5% minimum annualized dividend-per-share growth for the past three years (growth)
10% minimum return on capital (safety)
10% maximum decline in next year's projected earnings over past twelve weeks (safety)
35% maximum total debt to capital ratio (safety)
10-year minimum history of dividend payments (safety)
67% maximum payout of earnings (safety)
The current list includes 22 names:
click to enlarge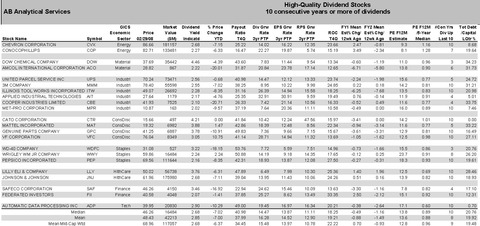 8 of the 10 economic sectors are represented. While most of the companies tend to be relatively large, there are several names with market capitalization below $1 billion. Met-Pro (NYSE:MPR) is one with which I am not at all familiar, but it sure sounds interesting: Pollution control (air and water) focus, not widely followed, terrific balance sheet, 10 years of increased dividends, low valuation. Overall, the list sports a median PE of just 14X. On average, the stocks have fallen thus far in 2008, but less so than the overall market. As always, inclusion on this list is a signal to investigate, not necessarily to buy!
Disclosure: No position in any companies mentioned