As an investor in video game stocks, I'm beginning to worry that consolidation will remove pure-play opportunities for trading in my favorite sector. Activision (NASDAQ:ATVI) got bought (sort of) by Vivendi, and now Take-Two (NASDAQ:TTWO) is probably going the way of Electronic Arts (ERTS). The TTWO buyout is not all that surprising--I first speculated ERTS would take them over back in December. Lucky guess - even an amateur surfer catches a wave now and then. But the question now is what to do with an industry that's changing rapidly.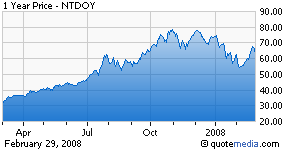 Let's start with the good. Nintendo (OTCPK:NTDOY) and Activision are the clear winners this time around. Nintendo looks attractive again after a pullback, and I wouldn't underestimate the release of Wii Fit. The biggest headwind I see is that NTDOY has been trading with the Yen (Yen goes up, NTDOY goes down).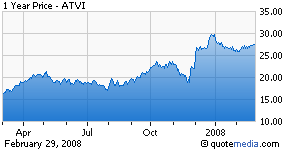 As for Activision, they were gaining market share even before the addition of Blizzard. Everyone knows about World of Warcraft, but I don't think the Street is pricing in another Blizzard game: Starcraft II. The first Starcraft popular in South Korea, to the tune of professional tournaments being played in front of huge audiences and broadcast on TV. Starcraft II could be equally huge, and not subject to Korean writers' strikes! I own ATVI and NTDOY, proudly.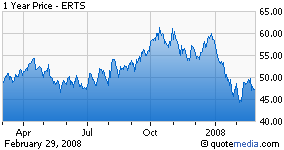 Moving on to the mediocre, there's ERTS. The Take-Two offer isn't as bad as some think, but I still question EA's overall strategy. Sure, they have sports, and they might soon have TTWO's Grand Theft Auto and Bioshock. But ERTS seems desperate. Last month, they upped their revenue estimates for fiscal year 2011. It is now 2008. Raising estimates that far ahead strikes me as bizarre. Speaking of bizarre, I'd suggest you check out a demo of EA's highly anticipated Spore. A cartoony character grows from a tadpole to a goofy Jar Jar Binks lookalike...meesa not so excited. If it were a minor game for EA I wouldn't care, but the hype has me worried. I'm being Minnesota Nice when I say Spore has bust written all over it. That said, I own some ERTS. I like it around $45 per share for a trade because I think the Street likes it around $45. I will probably sell before Spore makes it out of the evolutionary goo.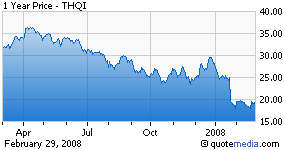 And now, the junk heap. THQ (THQI): I hate to say this (Minnesota Nice), but THQ is in trouble. Their new games have disappointed, and they are in danger of losing their licenses with WWE and Disney. The Wall Street Journal recently reported that Disney (NYSE:DIS) is going to make the Toy Story 3 game in-house. If Disney pulls it off, not only will THQ lose that valuable Pixar tie-in, but it would also decrease the chance that Disney would buy THQ. What exactly does THQ have that someone else will pay for?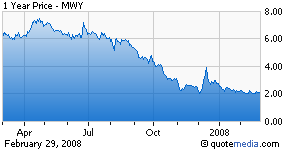 Just to make THQ feel better, I want to mention Midway (MWY). The chart looks like an experiment in gravity.
So, there are still some opportunities in this video game cycle, but be careful--they're not all worth playing.
Disclosure: Author holds positions in some of the above-mentioned stocks