Allied Irish Banks (AIB) first caught my eye when it showed up in a screen I was conducting while searching for value stocks. With a forward P/E of 7, PEG of .38 and a price to book ratio of 1.24, the shares seemed like real buried treasure for a value investor. In addition to its very attractive valuation, the bank offered a generous dividend yield of 5.39%, which has enjoyed 15 consecutive years of double-digit percentage growth.
The preceding numbers were certainly promising and immediately made Allied Irish Banks a top candidate for accumulation. However, my enthusiasm was tempered by the recent problems at financial institutions related to the real estate fallout and dislocation in financial markets. I couldn't help but wonder what skeletons in the bank's closet might be lurking for me. Would there be a surprise write-down in assets as we have witnessed at countless other banks over the last few quarters? Given the valuation of AIB, it seemed this question was on the mind of a lot of potential investors.
A Closer Look at Allied Irish Banks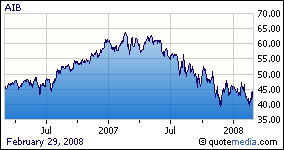 Allied Irish Banks is an institution with wide geographic diversity and a multifaceted approach to business. While operations in Ireland and the UK bring in 73% of pre-tax profits, the bank is increasingly expanding into more high growth regions. It is a 70% majority holder in one of Poland's largest banks and recently purchased nearly half of the outstanding shares of Bulgaria's largest bank, Bulgarian-American Credit Bank AD.
AIB's operations in the United States come in the form of a 24.6% stake in M&T Bank, which it acquired as a result of a merger between AIB's then American subsidiary Allfirst and M&T Bank. Allied Irish Banks also offers corporate banking services in the U.S.
Pre-tax profits at the bank are broken down geographically as follows:
Republic of Ireland: 43%
United Kingdom: 30%
Poland: 16%
USA: 8%
Rest of the World: 3%
Allied Irish Banks approaches business in each of its different markets with strategies complimenting that market's unique risks and rewards. For example, in Ireland and Poland, where GDP growth of 5% in a given year is considered an economic slow-down and an emerging middle class increasingly demands all kinds of banking services, AIB has universal banks offering a full range of services and products to consumers and business.
On the other hand, in the UK where consumer malaise and a looming recession have recently captured headlines, the bank increased profits by 20%. This was accomplished by focusing its operations in the UK on corporate banking with little exposure to the consumer. As in the UK, the bank's primary focus in North America is on corporate banking, however it does have exposure to the U.S. consumer through its holdings in M&T Bank.
On a recent conference call, executives of Allied Irish Bank presented very handsome figures indicating overall strength and effective management. The bank achieved a 13% increase in EPS over the past year, driving return on equity to date to 21.8%. Tier 1 capital rested at 7.5% and would be 7.85% by UK standards given that Irish regulations do not allow for declared dividends to be included in the calculation of Tier 1 capital.
Perhaps the most important figures concerning a bank or financial institution holding debt assets these days is in regard to its exposure to sub-prime securities and derivatives. Write downs of such assets require banks to take more money from the bottom line and raise capital to maintain capital levels required by regulating authorities to prevent insolvency. A recent example of this is Citigroup (NYSE:C), whose write-downs due to subprime related assets led to a quarterly loss of 9.833 billion dollars (its largest in 196 years) and the sale of 7.5 billion dollars in preferred stock to the Abu Dhabi Fund, equating to 4.9 percent of total equity.
Allied Irish Banks seems to have mostly avoided the sub-prime fallout, in comparison to other banks. AIB's holding in M&T Bank indirectly exposes it to subprime problems. M&T has suffered as a result of the recent financial crisis, leading to 7% decline in profit on AIB's holdings.
In terms of direct subprime exposure, Allied Irish Banks holds 327 million euro of subprime related securities on its books after write-downs of 25 million euro to date. These holdings present the possibility for further write-downs in subsequent quarters and therefore are certainly reflected in the current valuation of AIB's shares. However, when compared to its peers that also hold similar or larger amounts of subprime securities, AIB trades at a significant discount in terms of projected P/E.
Turning to the year ahead, Allied Irish Banks projects earnings growth to be in the low single digits. Slower economic growth in 2008 in its core markets could lead the bank to make higher bad debt provisions. However, in the long term, AIB's strategy of expansion into high growth markets and solid asset quality should produce favorable results related to earnings growth.
In terms of a future price target, assuming that the situation in financial markets returns to normal in 2009, the bank's share value should appreciate significantly. If the bank's P/E were to return to the industry average of 12, the ADR shares would increase in value to nearly $80 per share while yielding 2.875%, all other things held constant.
Implications
Given the potential for significant appreciation in the price of Allied Irish Banks' shares and a generous 5.39% yield, the bank's ADR shares seem significantly undervalued. The large dividend yield of the bank coupled with its low financial ratios generate a relatively large margin of safety, thus limiting downside potential in AIB's shares. I assume that the market is applying a significant risk premium due to uncertainty attributed to the financial industry as a whole.
While some of this risk is indeed prudent, in the case of Allied Irish Banks, I believe that the panic is overdone, especially considering the potential reward in of both dividend yield and capital gains potential. Additionally, Allied Irish Banks' unique geographic diversification and strategic approach to growth markets lend to earnings stability through rough times and rapid growth under normal conditions. In consideration of the preceding, I will begin accumulating shares with a goal of dollar-cost-averaging at a share price of $42/ADR.