Even though I have already allocated a full position to AAR Corp. (NYSE:AIR), the recent sell-off in the market, and with AAR in particular, is WAY overdone.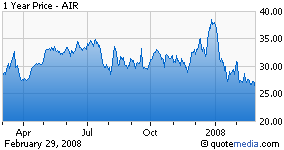 Various valuation metrics as well as my discounted cash flow analysis [DCF] put AAR about 70-100% below fair market value.
It might take weeks, or it might take months, but I believe AAR at these levels represents a true bargain on a rapidly expanding business with a proven management team and execution strategy.
Here are some other quick reasons why it's prudent to add to your AAR position or start one immediately:
AAR's most recent earnings announcement and conference call exceeded expectations, and was as solid as can be. I went over their latest quarterly report in detail.
AAR continues to further accelerate their business and enter into new markets with prudent acquisitions and margin expanding initiatives.
AAR recently announced another acquisition (a full update will be forthcoming), that adds another Maintenance, Repair and Overhaul [MRO] facility to their portfolio in Miami, bringing to 4 the total number of MRO servicing centers and further expanding their most profitable and rapidly expanding business segment.
This furthers their strategy to service more and more government aircraft, and in particular, domestic airlines that are outsourcing their MRO activities to cut costs and combat the rising price of fuel.
My recent follow-up and conversations with AAR have confirmed that things are on-track, and that nothing is amiss, other than a stock market correction and overreaction in this industry in particular.
I believe that AAR's upcoming fiscal 3rd quarter (February 2008) earnings report will be solid and above expectations, providing a catalyst for the shares.
Some quick valuation metrics:
Discounted Cash Flow [DCF]: Using my model, I get a fair or intrinsic value for AAR of anywhere from $45-$60 per share using extremely conservative assumptions: Upside potential of 73%-131%.
Using TRAILING P/E: AAR's historical 4-year trailing P/E ratio has always been between 20 and 30, today it sits at 16.5. This number will lower further in a few weeks when AAR reports 3rd quarter earnings: Upside potential of 21%-82% (not including further upside with Q3 earnings).
Using FORWARD P/E: AAR's forward P/E ratio for fiscal 2008 is $1.75 per share, or 14.86, and $2.28 per share or 11.4 for fiscal 2009:Upside potential of 35%-102% using 2008 values ONLY.
Using Price to Earnings Growth (NYSE:PEG): AAR trades at a forward P/E ratio of 14.86, while expected to grow earnings 20% over the next 5 years, a PEG of .743. Anything under 1 is considered "cheap". Upside potential of 35% (using a PEG of 1) - 62% (using a PEG of 1.2).
The Bottom Line
I believe that the recent sell-off that began in conjunction with the overall market malaise, is an overreaction and gives patient and well-researched investors like us, a fantastic opportunity to round out our full position in AAR at phenomenal prices.
I've said many times, and I'll say it again: anything under $30 a share for AAR is a bargain (AAR's recent price was $26.00), and you should add shares to your portfolio for long term investment immediately, and add more shares on any weakness below this level.
Disclosure: Author has a long position in AIR