As crude oil hits the triple digit price, hybrid vehicles may become a necessity for the US lifestyle to survive. As a result, automakers will need a low cost lithium ion battery. In this search for a high power battery maker to receive potentially massive orders from US and European car makers, the name China BAK Battery (NASDAQ:CBAK) reveals great potential.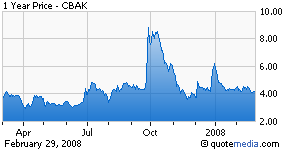 Currently, there is a variety of lithium ion battery makers in China. The top brand is BYD [HKSE:1211.hk]. However, BYD chooses to develop its own dual mode hybrid car, F6, along with its own lithium ion battery business. This strategy may ultimately prevent most US auto makers from collaborating on the lithium ion battery. Lishen Battery is another prominent Chinese lithium ion battery maker, but operates as a state owned entity with heavy government influence. The other company, Advanced Battery Technologies (OTCPK:ABAT), is similar to CBAK, but the company is far smaller in terms of revenues and net assets.
As a privately owned lithium ion battery maker in China, CBAK seems to have more flexibility and focus to serve the need of Western auto makers. This is because CBAK is building up a focused high power lithium ion battery manufacturing base in Tianjin. Once the base starts to ramp up the production in June 2008, CBAK will have the capacity to entertain US hybrid battery outsource inquiries.
CBAK is also currently qualifying for the OEM status of the HP (NYSE:HPQ) notebook lithium ion battery. Once the status is obtained as expected by the management, the CBAK hybrid lithium ion battery outsource qualification will be further enhanced.
The fact is that Japanese and Korean lithium ion battery makers have more technical strength and innovation abilities than CBAK. However, the overall cost in comparison might be a more imperative factor for any US auto makers if they want to roll out new hybrid models in great quantity. The proof of CBAK's capabilities lies in its past experience in meeting demands for A123 Systems that work with GM (NYSE:GM) on the hybrid lithium ion battery.
Wall Street analysts expect CBAK to earn 29 cents for the fiscal year ending September 2009. The estimates do not include any hybrid battery potential. With the crude price reaching triple digit levels, the CBAK hybrid battery might arrive much sooner than Wall Street expects. The success of the Chinese solar stocks' performance in the last few years may even be repeated with CBAK's capacity. The fundamental question is: Are there low cost producers of hybrid batteries other than CBAK that are reliable, sizable, and show value delivery? If not, CBAK could be the catalyst the hybrid vehicle market has been searching for.
Disclosure: none