We continue our series of reports on nuclear equities. In this issue, we detail short interest data for our select group of nuclear energy stocks split into four categories: uranium producers, uranium juniors, industrials and financials. Our analysis of the data focuses on the short interest as a percent of float and the short interest days to cover ratio (short interest shares/average 3-month volume).
For the data released on June 8, 2012, short interest for the broad universe of nuclear equities continued to decline following the YTD high in March 2012.
For Nuclear Energy ETF (NYSEARCA:NLR) and Global X Uranium ETF (NYSEARCA:URA) short interest decreased by 22% and 55%, respectively, from the prior period and currently remains at or near lows for the year. This is somewhat contrary to the broader market trend, with short interest slightly increasing for SPDR S&P 500 ETF (NYSEARCA:SPY) (+7.15% from the previous period) and iShares Russell 2000 Index (NYSEARCA:IWM) (+1.18% from the previous period).
Within the industry uranium juniors (small cap producers, developers and exploration companies) had the highest short interest, followed by uranium producers and industrial companies.
Companies with the highest short interest: USEC (USU), Denison Mines (NYSEMKT:DNN), Uranium Resources (NASDAQ:URRE) and UEC (NYSEMKT:UEC). Judging by the level of short interest, investors remain skeptical about the future share performance for these companies, even despite significant share price adjustments over the last quarter. We note that such high degree of short interest, combined with relatively low trading liquidity, makes these shares vulnerable to a potential short squeeze.
Companies with the lowest short interest: Cameco (NYSE:CCJ), Babcock & Wilcox (BWC), Uranium Participation Corp and UEX Corp. For most of these companies (except BWC) short interest has been steadily declining over the course of the 2Q 2012. We view this decline as a sign of potential improvement in near-term investor sentiment for the nuclear energy sector.
Click to enlarge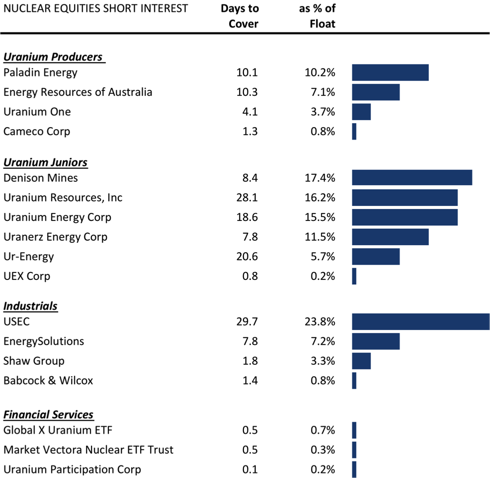 Source: Bloomberg, Capital IQ, ShortSqueeze.com
Disclosure: I have no positions in any stocks mentioned, and no plans to initiate any positions within the next 72 hours.