The advantage of investing in Supervalu Inc. (NYSE:SVU) versus other companies looking to turnaround and reinvent themselves is that Supervalu offers an 8% dividend for investors to wait. For investors concerned that Supervalu will not be able to pay the dividend to investors, we have stressed that the $.35 annualized dividend represents a projected total annual dividend payment of $74M, which represents 18% of Supervalu's projected free cash flows of $425M.
The principals of Saibus Research have experience investing in equity turnaround securities and there are a number of factors that we look at in turnaround situations. In the case of Supervalu, we have dived deep to delve upon the following 10 factors that we deemed of paramount importance to our investment thesis:
Supervalu's underfunded pension plan
Supervalu's ability to maintain its dividend
Supervalu's store investment program
Save-A-Lot hard discount stores
Operational investments in price competitiveness
Evaluation of management and its guidance
Supervalu's heritage business as a wholesaler to independent grocers
Sales momentum
Cash flows and debt management
Real Estate owned by Supervalu (stores owned by Supervalu instead of leased)
In our follow-up analysis to our well-received initial article on SVU, we touched upon the pension plan, its dividend coverage ratio, how a dividend cut is not necessarily the end of the world and its store investment program. In this installment, we will touch upon the following three factors:
Cash flows and debt management.
Real Estate owned by Supervalu
Evaluation of management and its guidance
Supervalu's heritage business as a wholesaler to independent grocers
Supervalu's Cash Flows and debt management: We are never pleased to see a company carry debt exceeding 50% of assets. The acquisition of Albertson's changed the capital structure of Supervalu. Before the Albertson's acquisition, Supervalu's debt only represented 15% of total enterprise capital. Supervalu assumed $6.1B in Albertson's debt and issued $2B in new debt and $2.4B in new shares to pay for the Albertson acquisition. We note that Supervalu had been paying down debt from 2006 to 2009, however the new CEO Craig Herkert has stepped up the efforts to reduce debt financing at SVU. Supervalu obtains three benefits from its ability to pay down debt:
Reduced Interest Expenses: Since Herkert has been Supervalu's CEO, SVU has reduced its annual interest expense by 18.2% or $113M annually. We expect Supervalu to reduce it by another $30M in FY 2013 by paying off an additional $388M in outstanding debt and capital lease obligations.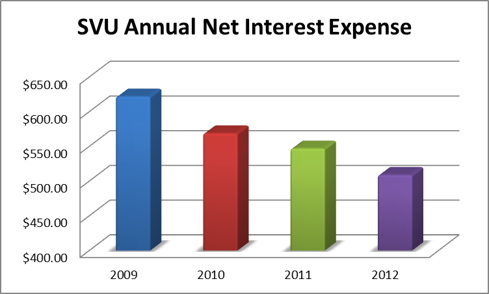 Source: SVU's FY 2012 Annual Report
Reduced reliance on capital markets: With the recent volatility in the capital markets due to the European sovereign debt crisis, as well as the continued fiscal profligacy of the US Treasury, we are glad that not only is Supervalu still free cash flow positive, but that it is dedicating three years of FCFs to reduce its maturing debt.
Potential for an increased credit rating and reduced interest rate on future borrowings. We believe that as Supervalu pays down its 2013-2015 maturing debt with free cash flows and pays off its 2016 maturities with a combination of free cash flows and debt refinancing, coupled with the stabilization of its operating income, Supervalu should see its credit rating increased and benefit from lower interest expense on future borrowings.
Supervalu's real estate owned: SVU has 64 million retail square feet as of the end of FY 2012. Supervalu owns 38% of its retail properties free and clear. We believe that this creates the lowest occupancy costs and provides flexible for strategic decisions like remodels, expansions and relocations. Supervalu takes a holistic approach to match the specific needs of its local communities to the most appropriate format operated or supplied by Supervalu. Supervalu's land, buildings and property under construction is on the books at an original cost of $5.18B, less estimated accumulated depreciation of $2.59B. Supervalu could always pursue a sale and lease back those stores or to refinance its unsecured bonded corporate debt with secured mortgage debt on the stores.
Source: SVU's 2012 Annual Report
Supervalu's management and guidance from management: We don't believe that Herkert is a "superstar, rainmaking CEO" simply because he came from Wal-Mart (NYSE:WMT). However, we believe that Herkert and his management team make a solid, capable team that has been able to identify what has been ailing Supervalu and are working to turn it around. We were pleased that SVU's FY2012 performance was in line with management guidance issued at the beginning of the year and we believe that management is working to execute its 8 Plays to Win strategy in order to transform the operating culture of Supervalu and restore it to profitability.
Supervalu's independent grocery distribution business (formerly supply chain services): Supervalu is the largest public food wholesaling company. We were displeased that Supervalu's independent grocery business has seen a decline in revenues and profits. This was caused by Target's self-distribution initiative, the sale of Total Logistical Control and a slightly higher LIFO reserve expense. Sales to existing independent customers increased by $107M in FY 2012 versus 2011. FY 2013 Management guidance for the independent grocery distribution business calls for a slight increase in sales in this segment.
New business affiliations for the independent grocery distribution business include C&K Markets on the West Coast, which brings 62 stores into the Supervalu family and leveraging Supervalu's existing asset base. The independent grocery business expanded its relationship with Western Bee and Supervalu is now supplying Western Bee's 27 stores in the New York metropolitan market. Like-store shipments remain positive in fiscal 2012. In addition to supplying its traditional grocery chain stores, Supervalu serves as the primary supplier to 1,900 independent grocery stores and provide product to another 750 on a secondary basis.
In conclusion we are confident about our investment in Supervalu. We invested in Supervalu because we felt that the concerns surrounding the company have pushed the stock price to what we believe are bargain levels. We believe that investors should not only purchase shares of Supervalu, but take advantage of market uncertainty to build a position in SVU. Our concluding research analysis report will touch upon the three remaining factors that we have identified as important to Supervalu.
Save-A-Lot hard discount stores
Operational investments in price competitiveness
Sales momentum
Disclosure: I am long SVU.
Additional disclosure: Saibus Research has not received compensation directly or indirectly for expressing the recommendation in this report. Under no circumstances must this report be considered an offer to buy, sell, subscribe for or trade securities or other instruments.