Pluristem Therapeutics Inc. (NASDAQ:PSTI), a bio-therapeutic company, engages in the research, development, and commercialization of standardized cell therapy products for the treatment of life threatening diseases. The company's products are derived from human placenta, a non-controversial, non-embryonic, adult cell source.
It is scheduled to report its results on June 21, 2012.
Technical Overview
Key Metrics
Market Cap: 108.46M
52-week trading range: 1.98 - 3.66
Price/Sales: 176.36
Price/Book: 2.84
Annual dividend yield: N/A
Return on Equity: -34.39%
Return on Assets: -19.59%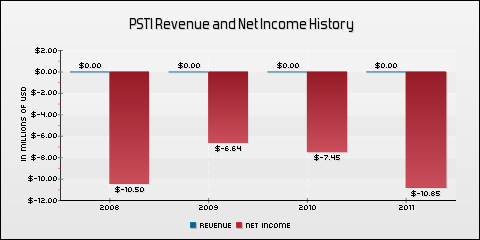 Recent EPS Actuals vs. Estimates
The company has failed to meet analysts' estimates in the last quarters. In the last quarter it reported ($0.09) loss per share, failing to meet analyst estimates of ($0.08) loss.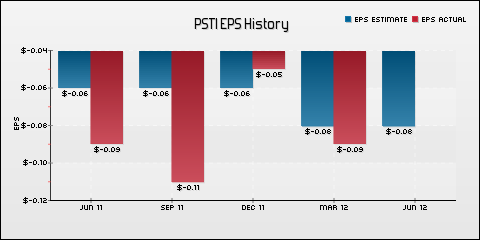 The consensus EPS is ($0.08) loss based on 2 analysts' estimates, up from ($0.09) loss a year ago. Revenue estimates are $220.00K. The median target price by analysts for the stock is $5.00.
Average recommendation: Overweight
Source: Marketwatch
Analyst Upgrades and Downgrades
On May 21, 2012, Needham initiated Buy rating for the company.
Latest Developments
On April 17, 2012, Pluristem Therapeutics Inc announced that the United States Food and Drug Administration (FDA) has granted the Company clearance to start a Phase II clinical trial using the Company's PLX-PAD cell product candidate for the treatment of Intermittent Claudication (IC), a subset of peripheral artery disease (PAD).
On January 18, 2012, Pluristem Therapeutics Inc. announced that its fully owned subsidiary, Pluristem Ltd., has received approval for a NIS 9 million (approximately $2.4 million) grant from the Office of the Chief Scientist (OCS) within the Israeli Ministry of Industry, Trade and Labor.
Competitors
Pluristem Therapeutics, Inc. operates in Biotechnology industry. The company could be compared to Advanced Cell Technology Inc. (ACTC.OB), CEL-SCI Corp. (NYSEMKT:CVM), Keryx Biopharmaceuticals Inc. (NASDAQ:KERX), and Zalicus Inc. (ZLCS). Below is the table comparison of the most important ratios between these companies and the industry.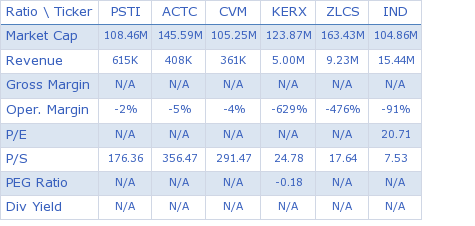 Below is the chart comparison with the stock price changes as a percentage for the selected companies and S&P 500 index for the last one year period.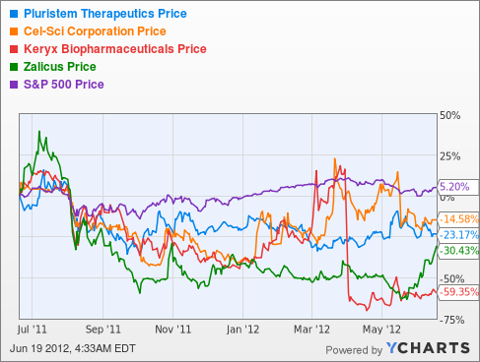 Competitors' Latest Development
Sources: Yahoo Finance, Google Finance, Marketwatch, Finviz, Reuters.
Disclosure: I have no positions in any stocks mentioned, and no plans to initiate any positions within the next 72 hours.