In an ever-evolving world of healthcare and medicine, society is always looking for advanced treatments to address their needs. Novartis AG (NYSE:NVS) meets the need, and offers top products in categories such as innovative medications, eye care products, cost-saving generic pharmaceuticals, consumer health products, preventive vaccines and diagnostic tools. Novartis not only benefits its consumers, but benefits its shareholders too because the company offers a portfolio of diverse top pharmacological products, unlike most other pharmaceutical company.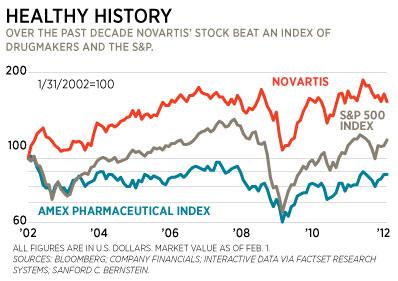 When matched up against its competitors in the pharmaceutical sector, Novartis remains at a fair price and pays out a healthy dividend. Novartis has also increased its dividend for 15 consecutive years. Unlike many of its competitors though, such as Abbott Laboratories Inc. (NYSE:ABT) and Pfizer Inc. (NYSE:PFE), Novartis has been increasing its companies size and adding divisions, rather than splitting the company.
| | | | | | |
| --- | --- | --- | --- | --- | --- |
| | NVS | PFE | JNJ | MRK | SNY |
| Market Cap (Billions) | 134 | 167 | 179 | 117 | 103 |
| Dividend Yield | 4.4% | 4.0% | 3.5% | 4.4% | 4.6% |
| Dividend Payout Ratio | 64% | 63% | 64% | 77% | 48% |
| P/E | 14.7 | 17.4 | 18.7 | 19 | 13.6 |
Diversification is definitely the top characteristic that makes Novartis an extremely attractive option. Novartis operates under a market cap of $130.83 billion. It's company is separated into four individual divisions: Pharmaceuticals, Generic, Alcon, and Consumer Health. Alcon, is its eyecare division that was acquired in 2010. With the acquisition of Alcon, Novartis became the top producer of eyecare pharmaceuticals in the world. The choice to add the eyecare division for Novartis has paid off too as Alcon has been growing at a rate of 10% a year, mainly due to an increase in cataract procedures in emerging markets.
Sandoz, another terrific division of Novartis, focuses on the development of generic drugs. Prilosec and Lovenox are two examples of drugs that Sandoz focuses to market under a generic name. This division gives Novartis additional revenue by being able to market drugs created by other pharmaceutical companies after their patent expires. Novartis estimates that by 2020 the market for generic pharmaceuticals could be worth upwards of 100 billion.
| | | |
| --- | --- | --- |
| | Revenue (Billions) | % of total Revenue |
| Pharmaceuticals | 32.5 | 56% |
| Generic (Sandoz) | 9.5 | 16% |
| Alcon | 10 | 17% |
| Consumer Health* | 4.6 | 8% |
The risk involved with Novartis is worrying whether or not they can continue to be attractive in emerging markets, and if they can continue to produce new drugs that will be efficient on the market, especially with their relatively new CEO Joseph Jimenez. Awaiting FDA approval on drugs can be a nerve racking process, Novartis recently had Gleevec, a drug for gout, turned down by the FDA because it was found to boost infection rates. While there are no more drugs ready to be tested for FDA approval in 2012, Novartis could have up to seven ready to be tested in 2013.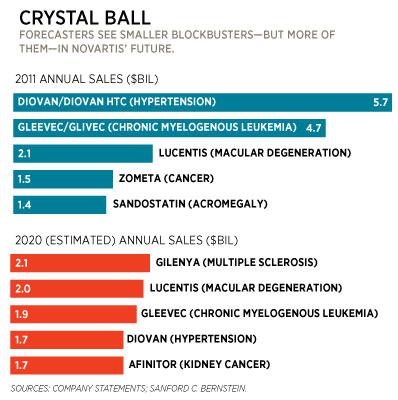 Whatever the case may be, Novartis is a rock solid addition to any portfolio on a pullback. Though there is always uncertainty involved with pharmaceutical companies, Novartis is a long term, proven company with a solid dividend and consistent earnings. Only time will tell though whether this giant will continue to have the success it has had in previous years.
Disclosure: I have no positions in any stocks mentioned, and no plans to initiate any positions within the next 72 hours.