Felix Salmon says he won't be buying another computer with a hard drive ever again. Why? He's sold on solid state storage
I've been a convert to solid-state drives since I got my first MacBook Air, and I custom-ordered the desktop machines both at home and at the office to have them as well. They're wonderful things, and I'm never going to buy another computer with a hard drive. (I hate hard drives, they always fail on me at the worst possible moment.)

Right now, computers with solid-state drives are still in the early-and-expensive stage of technological progress, but Apple's on the right side of history here, and prices will surely come down.
He does point out, however, that Apple (NASDAQ:AAPL) now makes devices that are more inaccessible than ever -- essentially building in obsolescence.
As Felix notes, "You can't upgrade the RAM, because it's soldered to the motherboard. You can't upgrade the solid-state drive, because it's an Apple proprietary drive, and no other drive will fit there."
Investing in solid state drives
This inspired me to take a closer look at a rather new exchange-traded product, the ETRACS Solid State Drive Index ETN (NYSEARCA:SSDD). This exchange-traded note tracks a set of 11 solid-state technology companies that manufacture the drives that run these tablet and smart phone devices.
According XTF.com, the fund tracks the following stocks weighted as follows: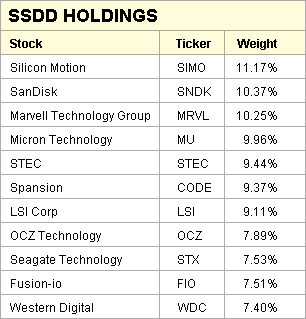 I don't know why the ETN structure was chosen for this fund instead of the more traditional ETF structure. It's also relatively expensive with a 0.65% annual "tracking fee."
But even if you don't want to buy the ETN, you can see how these 11 stocks as a group - rebalanced each quarter - would have performed in this the ETN since it started last September.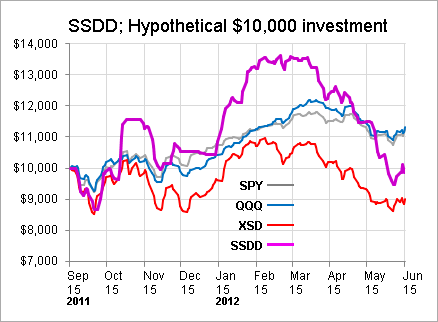 Most, if not all, of the companies in the ETN would qualify as semiconductor companies, yet SSDD did perform a bit better than the more widely known Semiconductor Sector ETF (NYSEARCA:XSD).
I also did a little hypothetical experiment, going back to the beginning of 2010 and tracking how a fund like this might have performed before it existed.
I used this list of stocks, only 8 of which were trading back in early 2010, adding in new stocks as they began trading, and re-balancing to equal weight once per quarter.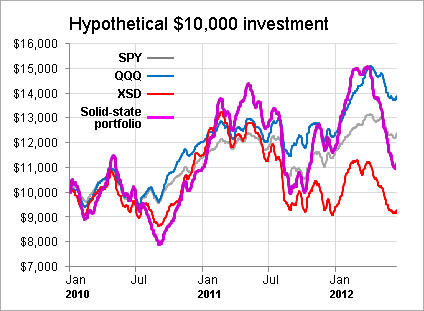 Note that while the performance is not spectacular, my experimental portfolio did outperform the XSD ETF.
Volume for this ETN is thin, but you won't find many other funds that specifically emphasize these solid-state technology companies, which should do well as Apple's iPad and iPhone, Android devices, and possibly Microsoft's (NASDAQ:MSFT) new Surface gain in popularity.
And for those of you who want to establish more complex positions, the ETN comes in a leveraged form, the 2X Leveraged Solid State Drive ETN (NYSEARCA:SSDL).
Disclosure: I am long AAPL.