Caterpillar (NYSE:CAT) and Deere (NYSE:DE) investors may have been in for a volatile ride over these past six months, but shareholder value has still tripled since the 1Q09 low. Based on my review of the fundamentals, I find that Caterpillar and Manitowoc (NYSE:MTW) are stronger plays on the construction market than Deere is.
I am particularly impressive with how well Caterpillar has orchestrated a turnaround. EPS beat consensus by 40.5% (1Q11), 21.4% (3Q11), 34.1% (4Q11), and 11.3% (1Q12). At the same time, growth has been in the high 20%-range over the last four quarters.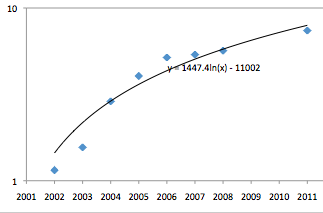 Source: Internal research. Note: Caterpillar's EPS over the past 10 years.
If you take a logarithmic regression of EPS over the past decade (excluding outliers in 2009 and 2010), you extrapolate 2016 EPS to be $11.08. In order to make any meaning out of this extrapolation, you need to take an exit multiple calculation that is appreciative of peer levels and the past. Caterpillar's current PE multiple is only 57% of its historical 19.2x average and just 82% of its sector's.
Assuming a multiple of 16x and my 2016 EPS figure of $11.08, the stock would have a future value of $177.26. Discounting backwards by 10% yields a fair value figure of $110.07. This is a 26.9% margin of safety on double-digit annual appreciation. Moreover, my figures actually understate Caterpillar's fair value. This is so because my exit multiple is 20% below the historical exit multiple calculation and my 2016 EPS projection is also very bearish. Analysts currently expect $11.41 EPS in 2013 versus my projection of $11.08 three years later.
While Deere also has a high consensus target price ($91.91, or 22.7% above the current price), free cash flow is less than optimal given debt. The company currently has nearly $25B in net debt while generating free cash flow that was almost just 5% of this burden. On the other hand, leverage may help the firm grow at a time when the global economy is moving towards full employment.
Deere's multiples are low at 10.4x earnings and results have been better-than-expected, albeit minimally, over the last five quarters. In fact, the current multiple is only two-thirds of the historical 5-year average and thus has strong room to expand.
Manitowoc offers 500 bps better expected annual EPS growth than Deere but still has considerable leverage. Net debt actually exceeds market and will be a major contributor to depreciation in the event of double dip. Since I am optimistic about the fundamentals of the economy and stock market over the next decade, I anticipate the firm generating high-risk adjusted returns.
1Q12 results may have disappointing at the $0.09 miss, but the company is no track to clear $200M worth of leverage this year. Management has also held strong on aggressive growth targets as uneven demand in cranes have put investors on the sidelines. With the fundamentals strong and risk being reduced, these investors are likely to come back from the sidelines.
Disclosure: I have no positions in any stocks mentioned, and no plans to initiate any positions within the next 72 hours.
Additional disclosure: We seek IR business from all of the firms in our coverage, but research covered in this note is independent and for prospective clients. The distributor of this research report, Gould Partners, manages Takeover Analyst and is not a licensed investment adviser or broker dealer. Investors are cautioned to perform their own due diligence.