This week's stock pick of mine is a short sell. Net1 UEPS Technologies (NASDAQ:UEPS). The liquidity crisis is far from over, so in the current market environment I'm more apt to take a short term short sale as opposed to a long term long position of any kind right now, mainly due to general liquidity issues, as well as a number of other reasons.
UEPS Short Trade Setup
Sell Stop: $28.98, Stop-Loss $29.64, Take Profit Areas $27.66 - $27.00, $25.42 – 24.82, and $23.52 - $22.96.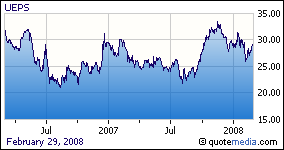 Below you'll read some news on UEPS, but revenues from this news will not be showing up until 2009. Uncertainty about the war in Iraq and in the markets makes this stock a good short term short sale in my opinion.
Net 1 provides its universal electronic payment system as an alternative payment system for the unbanked and under-banked populations of developing economies. The Company generates its revenues by charging transaction fees to government agencies, employers, merchants and other financial service providers, by providing financial services, such as loans and insurance products and by selling hardware, software and related technology. Net1's smart card to smart card [S2S] products include S2S Pension and Welfare, S2S Wage Payment, S2S Cash Advance, S2S Loans to Card, S2S Medical Management, Patient Monitoring and Distribution, S2S Retail and Wholesale, and S2S Insurance System. On July 3, 2006, the Company acquired Prism Holdings Limited, which focuses on the development and provision of secure transaction technology, solutions and services.
On February 25, 2008, Net 1 UEPS Technologies, Inc. entered into an agreement with a consortium comprising the Iraqi government and local Iraqi banks for the use of Net1's UEPS technology in Iraq. Under the contract, Net1 will provide a customized UEPS banking and payment system to the consortium.
The consortium, International Smart Card LLC, selected Net 1 as its partner to assist with challenges currently encountered with regards to the payment and distribution of cash disbursements in Iraq. It is expected that the UEPS technology will also be utilized by Iraqi citizens living abroad, via bank branches in other countries.
The deployment of the UEPS Banking and Payments System will provide a ubiquitous platform for most retail payment transactions in Iraq by providing interoperability between automatic teller machines, point of sale devices and bank branches. The UEPS technology will provide offline and online transaction processing solutions to enable affordable products and services to be offered to Iraqi citizens, irrespective of where they reside. Projects identified include the payment of social grants to war victims, employee salary/wage payments and banking products and financial services. The first project will pilot the solution for the distribution of social grant payments to war victims.
The Company expects to commence this project in the fourth quarter of fiscal 2008 and expects to generate revenue from this arrangement in the first quarter of fiscal 2009. Under the agreement, Net 1 will receive ongoing transaction and license fees, as well as payments for the provision of outsourcing services and the sale of hardware.
Disclosure: Short UEPS