Much has been made in the last day or two of the words of Sharen Turney, CEO of Victoria's Secret, who described the brand as having gotten "too sexy." While I'm sure half the attention is because talking about this allows us to sex up otherwise-boring finance talk, there is an actual relevant investing play on this.
The idea that women's fashion has become oversexed is about as original as the idea that we need tax reform – albeit more interesting. But when Victoria's Secret – part of Limited Brand (LTD) – starts to agree, you know some sort of shift is afoot because customers want something different. So who is best positioned to capitalize on this?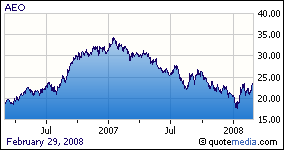 One of the reasons I own American Eagle (NYSE:AEO) is the potential of its sub-brand, aerie – something I see as a very natural, and profitable, extension of the American Eagle brand. Thinking 10 years out, I see it possible that aerie could contribute $200 million to the bottom line – this for an already highly profitable company with over $400 million in earnings in the last year. When you consider the AEO is priced for essentially no growth going forward, it becomes obvious something doesn't compute.
Why do I believe aerie is going to deliver? To start, American Eagle is enormously popular among teenagers (second only to Nike (NYSE:NKE)), and they already earn the majority of revenues from girl's clothing. By rolling out the aerie line and stand-alone stores, you're cross-selling and effectively taking in more money per customer just by leveraging off the existing brand goodwill. This leads to a high profit margin, high-ROI opportunity. But on an even broader macro level, aerie is well-positioned because it sells what Victoria's Secret wishes it could sell… I want to call aerie the relatively wholesome alternative to the just-too-sexy Vickie's, and I believe that is going to make the brand a huge winner with teen-to-young teenage girls, who then become natural customers of both aerie and American Eagle for the better part of their next decade.
I realize the danger in creating any long-term thesis in retail because fashion, by its nature, is fickle. Ok, I wouldn't know this directly – I come from the Bill Belichick school of dress – but this is what people tell me. Still, I'm not overly concerned, because Jim O'Donnell is a retail genius and the management team is top-notch overall. It is something to monitor and if a significant change takes place, a reassessment is obviously in store, but I like what I see currently.
On a more narrow level, the stock was down over 5% Friday, although overall volume was below average – this makes me think it is more of a trading blip on a combination of a bad day and some misinterpreted news. That news was a filing disclosing that American Eagle held about $400 million in auction-rate securities, a generally troubled market that has seen numerous failures and subsequent high reset rates. About a week back I spoke with someone who deals in auction rate securities, and they anticipate the market failures there will stop occurring in about a month. Until then, American Eagle will see a significant bump in the interest rate it receives, to the point where it could actually be slightly beneficial to earnings.
But by far the most interesting piece of that 8-K filing was the note that the company's cash, equivalents, and long-term investments position was $786 million, or essentially unchanged since the last quarter. This allows for a little speculation as to what kind of cash flow the company generated in the most recent quarter. Considering that the buyback in Q4 amounted to about $195 million, dividends are going to be about $21 million, and CapEx is likely to come in around $65 million, this means at least $281 million in positive (i.e. offsetting) cash flow was generated. The significance of any change in investments – basically the only other key component besides actual operating cash flow – can only be guessed at. If I had to make a prediction, I'll say that operating cash flow was actually fairly healthy at over $300 million, but that's just based on a rough guesstimate. We'll get a clearer picture in a week and a half when earnings are reported.
I believe AEO is very attractive around the $21/share level, and given the favorable reaction most retail stocks have seen upon reporting earnings (i.e. pretty much the opposite of what you get from tech), I'd be buying these dips and trading this from the long side.
Disclosure: Long AEO