Communication stocks completed another strong up week last week with both AT&T (T) and Verzion (VZ) rallying strong. As the world continues to fret over the problems in Europe, the perceived safety of the large dividends of these two stocks has attractive many buyers.
Even with these large moves of the last 3 months (see Figure 1), both stocks still pay dividends that exceed 4.5%. Naturally this level appears very attractive to most investors with the 10 Yr Treasury remaining around 1.6%. Why not jump at these yields?
Figure 1 - 3 Month Stock Gains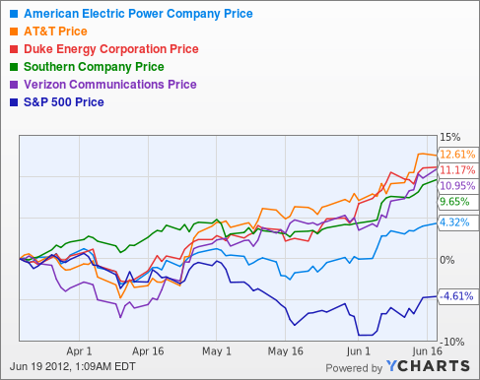 The first issue investors need to understand is that both of these companies rely on very high payout ratios to reach these dividend yields. The other issue is though both companies have fast growing wireless operations, the overall companies are much more like utilities these days with limited growth.
The most important part though are the heavy debt loads maintained by both companies amounting to over $50B each. The communications sector and especially the wireless division requires massive spending on equipment to keep up with the fast growing data requirements of smartphones and tablets. One has to wonder whether these companies would be wiser to use some of the dividend payouts to reduce debt loads.
Below Figure 2 shows how some fundamentals of the communications utilities compare to some of the leading energy utilities such as American Energy Power (NYSE:AEP), Duke Energy (NYSE:DUK), and Southern Company (NYSE:SO).
Figure 2 - Comparison Of Utility Stocks
Stock
Forward P/E

5 Yr

Growth Rate

Payout Ratio -

Forward Earnings

American Energy
12.6
3.5%
59%
AT&T
14.0
9.6%
69%
Duke Energy
15.6
3.5%
67%
Southern
17.0
5.6%
69%
Verizon
15.6
10.8%
72%
Note that even though the communication stocks have the higher growth rates the corresponding payout ratios based on forward earnings top the list. Any growth won't realistically be translated into higher dividends as those levels of payouts.
In what is generally considered a cheap market, the above utility stocks and especially the communication ones are just too expensive to buy at these levels. Investors are unlikely to be rewarded going forward.
Disclosure: I have no positions in any stocks mentioned, and no plans to initiate any positions within the next 72 hours.
Additional disclosure: Please consult your financial advisor before making any investment decisions.