By Mark Bern, CPA CFA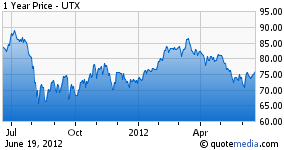 United Technologies (NYSE:UTX) is in the process of acquiring Goodrich Corporation (NYSE:GR) for $16.5 billion. To help fund the purchase without raising debt levels excessively the company is also considering several major unit sales that are outside the company's increasing core focus: aerospace and propulsion segments. I have been a very happy, long-term investor in UTX, but the moves being discussed in articles like this one have me concerned that the company may be making a wrong turn for future growth. There are two elements of this shift that concern me.
First, let's take a look at the two possible divestitures mentioned in the above-linked article: Pratt & Whitney Power systems and portions of the fire and security segment. The power generation business builds gas-fired turbines for electric power generation based upon turbine technologies developed for aircraft engines. With the relatively recent descent of natural gas prices making the fuel much more attractive for electric generation I can't help but wonder about the timing of this unit being considered for sale. Perhaps the estimated $1 billion price tag is elevated (and we know UTX likes things that elevate since it owns Otis Elevators) now, but I also can't help thinking that the price should increase even more in the not-so-distant future as demand for turbines should increase. Also, the company has an installed base of more than 2,000 industrial gas turbines installed in more than 60 countries, each of which requires regular maintenance. Along with the manufacturing, marketing and distribution goes the service contracts. The warranty work will be shed as well, but the steady cash flow from long-term maintenance contracts is one of the reasons I have always liked UTX.
The second possible divestiture is a little less simple to break down. The company says it is performing a review of its fire and security segment and considering selling some of those operations to raise additional cash. This remains a good business to in as I don't see crime dropping substantially any time soon. I live in an upper, middle-class development tucked away on the side of a mountain. Most people don't even realize we're up here. Thus, we have not been bothered with vandalism or break-ins … until the last two years. As the economy remains in a weak condition, crime seems to be spreading rather than lessening. I won't be able to tell much about the company's move in this area until more details about how much and what portions of the segment are being considered for sale. If the company sells those units that can fetch the highest prices it could be cause for concern, in my opinion.
The other aspect that concerns me is the move to concentrate more in the aerospace (i.e. defense) business at a time when our government seems to be scaling back its defense spending. Some, and perhaps much, of the defense cuts will come out of spending on new equipment which seems like UTX is becoming more focused. Granted, the current administration seems determined to force allies to pick up a larger role in world peace efforts and this seems logically to lead to more export of technologically advanced weapons and equipment to foreign powers. That may make some sense up to a point, but without trying to make an ideological statement I am not certain just how far Congress will allow the changes will be taken or whether our allies will be willing to spend enough to make up for the cuts in our own defense spending. I am trying to make sense out of this strategy, but for the time being I feel it necessary to reconsider my position in UTX until more of the dust from these transactions settles and we can see a clearer picture of what the prospects of the new UTX will likely be. I will be very interested to see which of UTX's competitors wins the bid for the power generation segment as it may create growth opportunities in the right hands.
For these reasons I am changing my long-standing recommendation on UTX to hold from buy. Earlier articles that I wrote about UTX can be found here, here and here.
Disclosure: I am long UTX.