WTI oil prices have fallen roughly 20% since the end of April. Natural gas prices have fallen roughly 50% (and sometimes more) from their high last summer of $4.97/MMBtu. This has put a big dent in most oil and gas companies profits. Rosetta Resources (NASDAQ:ROSE) is one of those.
Let's look at the picture for 2012 and beyond. We are facing what gives every appearance of becoming a severe recession in the EU. Essentially the Euro is preventing many of the struggling EU member countries from monetizing their debts. It is preventing them from devaluing their currency to make their products cheaper and more appealing as exports. It is keeping the salaries, etc. of the strongest economies lower than they would be if they had their own currencies; and it is keeping the salaries of the weakest EU countries workers higher than they would be if they had their own currencies. This gives the strong economies a competitive advantage within the Euro zone and without. US automakers, etc. are being hurt by it too. Not only this, but the Euro is not providing any central borrowing facility (Euro bonds). Therefore the weaker countries have to borrow at much higher rates than the economically stronger countries. This is a further disadvantage. In fact it has left several of the weaker economies open to bond attacks, which have led to their bond yields skyrocketing. This has left these countries with completely unmanageable budgets. Too much money in their budgets is going simply to pay down debt. The further deficits they incur lead to even further problems. Austerity won't fix that, although the Germans seem to like to pretend it will. In sum the problem will have no easy solution. The economics mean that severe changes to the system (or exits from the system) will be necessary to fix the current problems longer term. Since most efforts to date have been to try to salvage the current system "as is", no real progress has been made in solving the problems. This effectively means they are getting worse and not better. It means the likelihood of a debt or banking fiasco that will affect all of Europe is rising rapidly.
The above situation dictates a European economic slowdown of severe proportions. This slowdown may well spread to the US, the BRICs, and all of the other emerging market nations. This means commodities and cyclical stocks are likely to fall and keep falling until this situation hits bottom. Any idiot can tell that this situation is nowhere near its bottom. This means we have a lot further to go in the commodity and cyclical stocks fall. One of the chief areas of this fall is energy and its related cyclical stocks.
With all of the above in mind, a look at Rosetta Resources shows that it produced 33.8 Mboe/d in Q1 2012. It forecasts that it will produce 35 - 38 Mboe/d for FY2012. For the sake of my estimates, I will use the midpoint value of 36.5 Mboe/d. Of this ROSE expects 60% to be liquids (oil and NGLs). That means 40% will be natural gas production. This means 14.6 Mboe/d will be natural gas production. The conversion norm for Boe to mcf is 6 mcf to 1 Boe. One mcf of natural gas is equal to 1 MMbtu. This means natural gas production will be 6 MMbtu/Boe * 14,600 Boe = 87,600 MMbtu/day of natural gas. Rosetta Resources has 20,000 MMbtu/day hedged at a floor of $5.13 per MMbtu. This means approximately 77% of natural gas production is unhedged for 2012. There were no natural gas hedges for 2013 or beyond as of Mar. 31, 2012.
For the liquids, ROSE has 12,300 Bbls/d of hedges for 2012. The oil is hedged at a floor of $81.03/barrel, and the NGLs are hedged at $63.77/barrel. This last excludes ethane, which is much cheaper by comparison. The Gates Ranch break down of NGLs is 45% ethane, so this is a big negative. Other distributions of NGLs are likely similar in ethane content. For FY2013 there are only 9,250 Bbls/day of liquids production hedges. For FY2014, there are only 3,000 Bbls/day of liquids hedged. All of the above hedge figures are as of Mar. 31, 2012. Since 60% of the 36.5 Mboe/d of production is liquids (21.9 Mboe/day), that means 9.6 Mboe/d are not hedged (approximately 44% of liquids production). With only 4,700 bbls/day of the hedges for 2012 being NGLs, that leaves about 8000 bbls/day of unhedged NGLs. Approximately 5700 bbls/day of these unhedged NGLs are ethane. Other unhedged barrels/day amount to about 2300 barrels/day. Taking propane as a typical example, the PNY00 (cash) is now $0.7902/gal (approximately $33/barrel). This is down -48.23% year over year. It is down -37.53% in the last three months. A recent price for ethane was $0.0724/gal (approximately $3/barrel). In other words, ROSE will get very little for its unhedged ethane, which includes all of its ethane. The rest of its unhedged NGLs production will see severe drops from the hedge values.
On top of all of this Raymond James came out with a very negative call on oil and oil stocks yesterday June 18, 2012. It says it continues to see downward pressure on oil into 2013. Its price target for 2013 is $65/barrel for WTI oil. It downgraded 24 oil & gas companies based on this new view on oil. Rosetta Resources was among the companies downgraded by Raymond James. The fall to $65/barrel for WTI oil is approximately another 22% fall from WTI's current price of $83.70/barrel. It seem like a good reason to have a very negative view on ROSE, especially with the current very low natural gas prices, and the relatively new and building glut in NGLs. This makes one think that shorting a significantly unhedged producer of natural gas, NGLs, and oil is a good short. Other brokerages are sure to follow Raymond James with downgrades. This likely stream of downgrades should help a short trade in ROSE too.
The two year chart of ROSE confirms the above analysis with technical direction.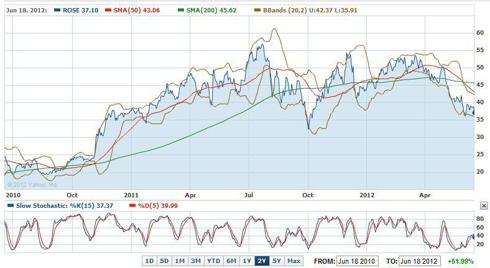 Click to enlarge
The slow stochastic shows ROSE is neither overbought nor oversold. The main chart shows that ROSE's price line has moved below its 200-day SMA (a sell signal). The chart shows that the 50-day SMA has recently passed through its 200-day SMA on its way down (a stronger sell signal). Given the fundamentals above, it seems reasonable to think that the price decline will continue. There is some support at approximately $32. Then there is little further support until $23.50. The first of these targets may be achievable in the near term. The second would probably take longer. If you own the stock, you probably want to sell it for now. If you like the stock, you will almost certainly get a chance to buy it back at a lower price. If you are an aggressive trader, you probably want to short the stock.
The Price/Book (mrq) of ROSE is 2.97. This means it is not such a value play that its value will hold it up in the face of economic trouble. Its market cap is only $1.95B. Such smallish cap growth stocks tend to get beaten up badly in economic downturns. Further ROSE has missed EPS estimates in the last two quarters. Analysts have lowered their estimated EPS for future quarters and for both FY2012 and FY2013 significantly. They will lower them more, if I and Raymond James are at all correct about the troubled prices of oil, NGLs, and natural gas in the US for this year and into next year. Some pundits are targeting oil to reach $75/barrel in the near term (for those making only near term trades).
Today's negative economic events include a Spanish 12 month note auction selling 12-month notes at a yield of 5.074%, which is more than 2% higher (200+ bps) than the price at the previous auction. The German ZEW Economic Sentiment missed today at -16.9 versus an expected +4.0 and a previous +10.8. The European ZEW Economic Sentiment missed at -20.1 versus an expected -5.7 and a previous -2.4. Both of these are huge misses, and they show that even the relatively well off Germans are becoming increasingly pessimistic. If the Germans are pessimistic, you probably should be too. This just makes ROSE a better short.
After the downgrade by Raymond James yesterday, ROSE might rebound a bit today. You may wish to watch it today before you enter the trade. Averaging in is a good strategy.
A few other oil and gas companies that have recently seen their 50-day SMA move below their 200-day SMA includes Whiting Petroleum (NYSE:WLL), Pioneer Natural Resources Co. (NYSE:PXD), Occidental Petroleum (NYSE:OXY), and Oasis Petroleum (NYSE:OAS). If you like my idea of selling/shorting ROSE, you may wish to take a look at one or more of these.
NOTE: Some of the ancillary fundamental fiscal data about ROSE came from Yahoo Finance.
Good Luck Trading.
Disclosure: I have no positions in any stocks mentioned, but may initiate a short position in ROSE over the next 72 hours.