Jefferies Group, Inc. (JEF) was out with earnings of $0.28 per share before the bell today. That beat analyst estimates by a penny and was a year-over-year decrease of 21%. Adjusted EPS would have been $0.31, excluding items related to debt extinguishment and acquisitions. This is the fourth consecutive quarter Jefferies has beat estimates. Net revenue of $711 million was well ahead of analyst estimates of $681 million but was down 2.2% year over year.
Investment banking revenue was up 4% sequentially but down from a record quarter a year ago, coming in at $291 million. At quarter end, adjusted book value was reported at $15.35 per share. Fixed-income trading revenue was $293 million up 31% from a year ago. While equity trading revenue was down 27.5% year over year to $119.6 million, this was a sequential drop of 12%.
The stock trades at 11 times trailing earnings, and 9.5 times forward earnings. Jefferies has a PEG ratio of 1.1, in line with industry average. The company currently sees the most opportunity in the United States, and is not looking to expand geographically. Jefferies is looking to expand in commodities and metals trading worldwide.
Click to enlarge image.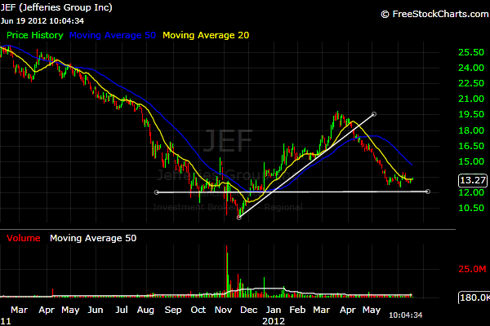 Source: Freestockcharts.com.
This chart illustrates how Jefferies has not been a rewarding investment over the past year, off about 40%. The stock did rally over 100% from mid-November until mid-March, but broke below that uptrend and its 50-DMA in April.
The first place of support could be around $12 per share, and I would like to see a strong break around the 20-DMA before I would consider buying Jefferies. Today, the 20-day is at $13.25 and the morning's move higher following the earnings release has moved the stock just above that level. You can see how the 20-day really provided support on the way up and resistance on the way.
Data sourced from company filings and Yahoo Finance.
Disclosure: I have no positions in any stocks mentioned, and no plans to initiate any positions within the next 72 hours.