Introduction
Clearwire (CLWR) seems like a compelling investment as its stock trades slightly above $1. However, there are a number of things that make me wonder if the company can survive this year. First, its operating loss has been growing since the company was spun-off from Sprint (NYSE:S) in 2007. Second, the company has an interest expense of about $500 million a year and its net cash outflow from operating activities in 2010 and 2011 was $1.1 and $0.9 billion. Third, Clearwire claims that it owns valuable spectrum in times when large wireless carriers are "crying" for more spectrum. In fact Verizon (NYSE:V) is selling some of its spectrum. It seems that the content providers are the ones crying for more broadband. A large company, such as Google (NASDAQ:GOOG) or Amazon (NASDAQ:AMZN), could be interested in acquiring Clearwire's spectrum.
Mounting Operating Losses
Clearwire operating losses should be of concern to the company as well as investors. While the company is able to grow its customer base mostly through wholesaling agreements with pre-paid wireless carriers, it appears that this business is actually losing money. In 2009, Clearwire had revenues of $244 million while revenues in 2011 were $1.25 billion. Its operating loss in 2009 was $1.1 billion and in 2011 the company lost $2.4 billion. While the loss is increasing, it is decreasing as a percentage of revenues but not fast enough.
For comparison purposes, Verizon had 4.8 million FiOS broadband internet connections AT&T (NYSE:T) had 16.4 million U-Verse broadband internet customers while Clearwire had 1.3 million retail customers as of December 31, 2012. However, the FiOS network is available to 16.5 million homes, the U-Verse to 30 million, and Clearwire is available to 134.2 million people. It is obvious that Clearwire is not offering a good service or is unable to market its service in order to attract enough customers.
Winning pre-paid wholesale customers sounds good in a press release. However, a focus on higher-margin retail customers and improving service and marketing should help Clearwire exit its operating losses and stabilize the company.
Unsustainable Cash Outflow
While the company's operating losses are mounting, it is also relying more and more on prepaid revenues from its wholesale customers. In the Q1 2012 earnings call, Clearwire's management commented that it had the first quarter of positive operating cash flow. Since the company receives payments from Sprint (its largest shareholder), it is not clear if this was due to a pre-payment.
As of March 31, 2012, Clearwire had cash and cash equivalents of $1.43 billion and its cash outflow in the first quarter of the year was $576 million. The company could have a higher cash inflow in the 2nd and 3rd quarter from more prepayments. However, it will also have higher cash outflows due to the buildup of its 4G network, which is expected to occur in the second half of the year. At current cash outflow rates, Clearwire can survive until the end of 2012. This is unusual for a company having valuable spectrum. While, AT&T and Verizon are much larger companies, they had cash flow from operations in 2011 of $34.6 and $23.4 billion, respectively.
Who Could Buy Clearwire Spectrum
Clearwire claims that it can easily sell its spectrum if it needs to. However, it is not certain who would want to buy it. Verizon is selling spectrum and AT&T needs are met for the next five years. In regards to Sprint, I do not think it is a likely buyer since the company was spun-off from Sprint in 2007. It clearly does not want a full commitment with Clearwire, except holding a majority stake and nominating board directors. Also, an analyst suggested that Sprint itself could be heading to a bankruptcy due to its overconfidence in the iPhone.
The only possible buyer of Clearwire's spectrum seem to be a cash rich technology company such as Apple (NASDAQ:AAPL) or Microsoft (NASDAQ:MSFT). Apple has a large content offering and its users could benefit if the company also offers fast wireless connection. Microsoft recently acquired the communication company Skype and a broadband service together with Skype could be a viable alternative to the large wireless companies. Similarly, Amazon , which has its own digital library, could be interested in buying Clearwire and offering ISP service to its Prime customers. Sooner or later cable companies will start feeling threatened by online content providers and may start charging extra for large data.
It is difficult to value Clearwire's spectrum. If the company needs to sell spectrum in a rush, it is not likely that it would be able to get a fair price. Technologies change quickly and in a couple of years companies could have more than enough spectrum. Clearwire and its shareholders could be better off if the company becomes profitable, instead of running down its cash and hoping to sell spectrum in a worst case scenario.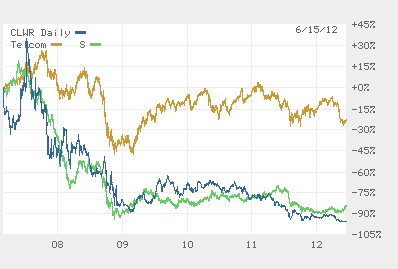 Conclusion
Clearwire shares are down over 95% since the company's spin-off from Sprint. At current cash use, it can survive a couple more quarters. The end game is near for Clearwire, although it is not admitting it. It is not clear what would be the concluding chapter for this telecom provider. This is probably causing bond and stock holders second guess their investment in Clearwire. Thus, I recommend Clearwire shares only to investors with strong stomachs and risk appetites.
Disclosure: I am long CLWR.