Looking for a biotech stock with diversified revenues and a fair stock price? Consider PDL BioPharma (NASDAQ:PDLI), which produces antibody technology used by several biotech and pharmaceutical companies in their marketed products. The company receives royalties from 8 commercialized products currently using their antibody technology, and PDL also has a diversified late-stage pipeline.
First let's consider the stock's price, which appears undervalued by most ratios. PEG at 0.39, and P/FCF at 7.74. These both appear undervalued, given fair value ratios of PEG at 1 and P/FCF at 15. The same holds true for P/E and P/Sales, with TTM P/E at 5.44 vs. 22.04 for the biotech industry, according to Fidelity. TTM P/Sales at 2.54 vs. 22.58 for the industry average. Meanwhile the stock continues to perform well, rallying above its 20-day, 50-day, and 200-day moving averages.
PDL BioPharma produces antibody technology used by biotech and pharmaceutical companies in their marketed products, which produce royalties sent back to PDL. According to the firm's website, antibodies are used in 'targeted therapies' against diseases such as cancer. By targeting only cancer cells, targeted therapies are usually more effective than traditional chemotherapy regimens.
PDL BioPharma announced recently that they are expecting about $125 million in revenue in its second quarter (analysts were expecting $129.6 million according to FactSet). Although revenue only increased 2% from the same period last year, a few of the drugs PDL receives royalties from saw bigger jumps in the first quarter. Lucentis to treat wet age-related macular degeneration [U.S. patent owned by Roche (OTCQX:RHHBY)/Genentech] saw royalty sales rise 15%, while royalty sales from Tysabri to treat MS grew 13% [U.S. patent owned by Elan (NYSE:ELN) /Biogen Idec (NASDAQ:BIIB)). Despite the modest increases in revenue, 5-year projected EPS growth for PDLI is at 14% and year-over-year EPS change expected at 21.92%, according to Fidelity.
PDL's product pipeline has four late-stage experimental antibodies. They include bapineuzumab and solanezumab, two antibodies that bind to beta-amyloid, which could potentially be used in delaying the progression of Alzheimer's disease. The two antibodies are both in Phase III. PDL is also working on teplizumab, an antibody currently in a pivotal Phase II/III clinical trial that may be used against Type 1 diabetes.
Among the potential pitfalls for PDL BioPharma are that it is heavily indebted, with more long-term debt than total assets. Short float is also high at 10.68%, although this may be seen as an opportunity to some contrarian investors. And as with most biotech stocks, commercial success of their newer products remains a question mark for some time.
For an interactive version of this chart, click on the image below. Market data sourced from Zacks Investment Research.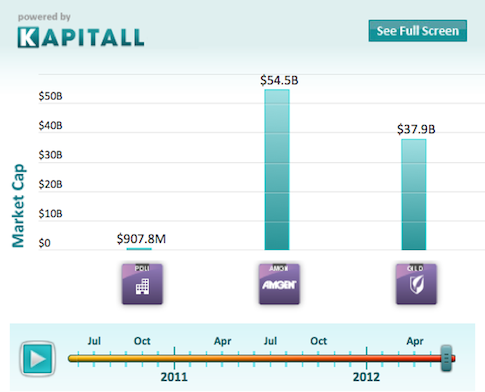 Tool provided by Kapitall.
*Written by Alexander Crawford. Price multiples sourced from Fidelity, short float and rallying data sourced from Finviz.
Disclosure: I have no positions in any stocks mentioned, and no plans to initiate any positions within the next 72 hours.