When it comes to biotechs, one always can count on Dendreon (NASDAQ:DNDN), Medivation (NASDAQ:MDVN), and even J&J (NYSE:JNJ), because of its drug Zytiga, to provide a surge of adrenalin. But for the last several days, it's DNDN and MDVN that have been stirring the blood of traders on the heels of Medivation and Astellas's update on its prostate cancer treatment enzalutamide (aka MDV3100). Specifically, the companies "…announced the completion of targeted enrollment of 1,680 patients in the PREVAIL study, a global Phase 3 clinical trial evaluating enzalutamide in men with advanced prostate cancer who have not yet received chemotherapy."
There is no question that the drug represents a significant advance in the treatment of prostate cancer. Moreover, the fact that it doesn't require the co-application of prednisone makes it a major competitor to JNJ's Zytiga. The question on everyone's mind at this point, however, relative to enzalutamide, is whether or not the Kaplan-Meier (survival) curves we saw with the Zytiga AA-302 study, which didn't separate until 18 months after the patient started taking the drug, will also be seen in the PREVAIL study.
Does enzalutamide represent a threat to Dendreon? Not as some assert. Doctors will use the treatments in combination, something more the rule than not in the treatment of cancer. In this case, Provenge and enzalutamide have two completely different mechanisms of action (MOA), or as clinicians say, their MOAs are orthogonal. For the medical community not to take advantage of this opportunity for the benefit of the patient makes no sense.
One of the reasons Dendreon has been weak in the face of Medivation's strength has to do with trading strategies. David Miller of Biotech Stock Research, among others, recently commented that trading patterns in the two stocks seem to confirm traders are going short DNDN and long MDVN in paired trades of significant sizes. Among other things, this would account for the short interest in Dendreon.
But MDVN bulls should not rest on their laurels. Mr. Market has a way of humbling the crowd, especially when many people are thinking the same way. (Remember what happened to Dendreon investors a while back?). So today, while Medivation is flying high, fueled by what arguably may be the future best-in-class treatment for men with advanced prostate cancer who have not yet received chemotherapy, company insiders are bailing out of the stock like there's no tomorrow. Whether it's because they finally have their "payday," they know there's a secondary coming to fund the marketing effort required, or know the old Wall Street adage, "buy the rumor, sell the news," some officers and directors have sold millions of dollars in stock over the last several months. What do they know we don't?
Stay tuned. With Dendreon and Medivation, there are new revelations daily.
Technical Analysis
The Daily chart, courtesy StockChart.com, shows MDVN's stock on a tear since early February, currently standing a little over $86 at this writing. Relative Strength is neutral, and the MACD is slightly negative.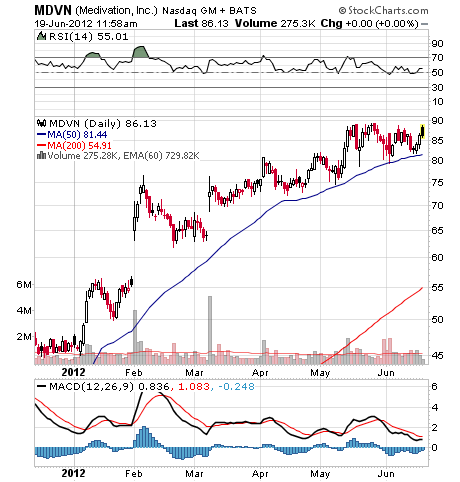 On the weekly chart, the stock is coming down from its Overbought condition and appears stalled just below $90. The MACD is negative, suggesting the smart money is distributing shares.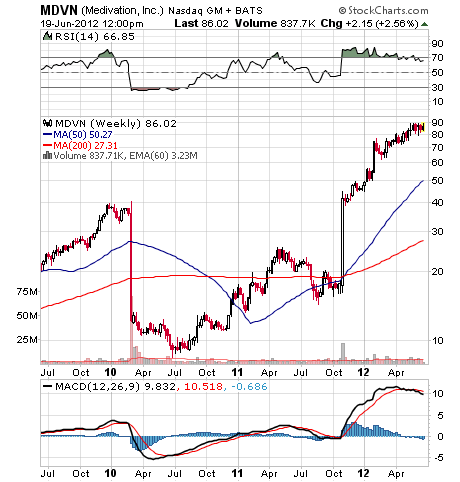 For Dendreon, the stock is off today but still holding above the low set in early June. The Daily MACD is positive.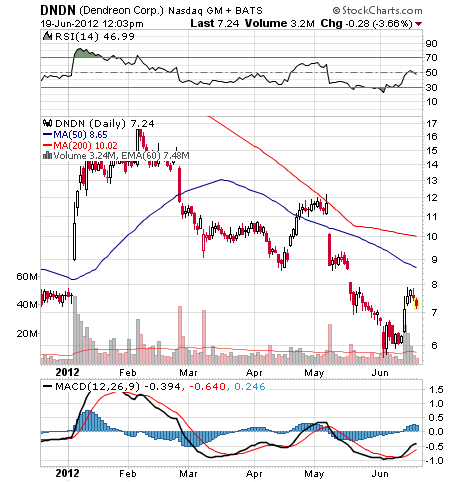 Bottom of Form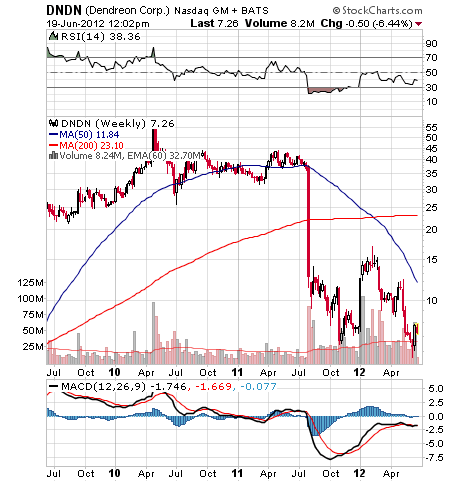 On the Weekly chart, the stock has come off its Oversold condition, and the MACD is neutral.
Disclosure: I do not own JNJ or MDVN, and do not intend to initiate positions within 72 hours of the time of publication of this article. I do own DNDN and will not change my position with 72 hours of the time of publication of this article. I am not a registered investment advisor and do not provide specific investment advice. The information contained herein is for informational purposes only. Nothing in this article should be taken as a solicitation to purchase or sell securities. Before buying or selling any stock you should do your own research and reach your own conclusion. It is up to investors to make the correct decision after necessary research. Investing includes risks, including loss of principal.