Shares of uranium exploration company Uranerz Energy Corp (NYSEMKT:URZ) moved sharply higher on Tuesday despite any major news.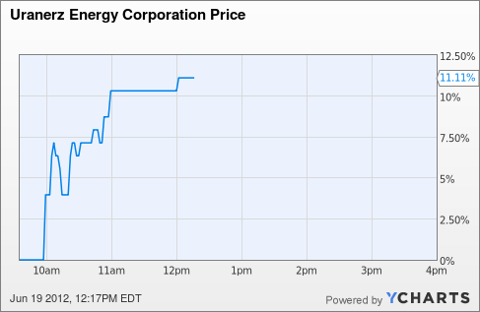 Click to enlargeURZ data by YCharts
Broad Market Rally
One reason why URZ is moving higher is the rally in the broad market indices. URZ has a high beta of 2.8, so the stock is probably benefiting from the move higher in the Dow and S&P 500.
Japan Restarts Nuclear Reactors
Japan recently announced that it was restarting two nuclear reactors. This marked the first restart of nuclear power since the Fukushima accident. The restart of nuclear power plants in Japan is a positive for uranium producers as it signals the future may not be so bad for nuclear energy. As shown by the chart below, this decision has led to a rally in the major uranium companies such as Cameco (NYSE:CCJ) and Denison Mines (NYSEMKT:DNN).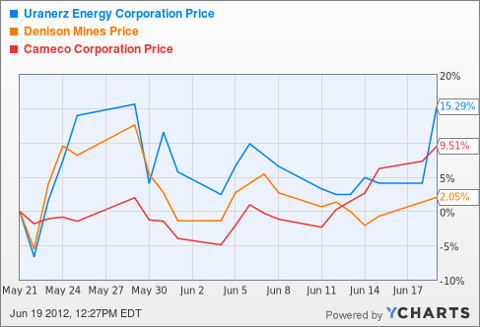 Click to enlargeURZ data by YCharts
Short Covering
One possible explanation for the move in URZ is short covering. Short interest currently stands at roughly 7.8 million shares or 12.4% of the float. It is possible that some shorts have decided to lock in profits on their URZ short as the stock is close to a 52-week low. The high short interest does represent the potential for a short squeeze if any positive news emerges for the industry or URZ.
My Take
In my opinion, URZ is a hold. The company does have some impressive assets, but without any real momentum I cannot get behind URZ. URZ is considerd a potential takeover target. If momentum continues to build for the uranium industry, I would consider URZ a good play.
Disclosure: I have no positions in any stocks mentioned, and no plans to initiate any positions within the next 72 hours.