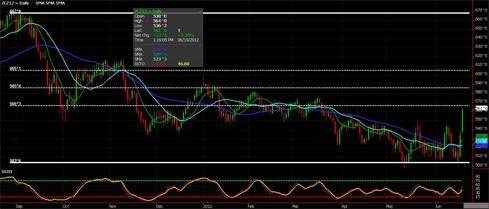 Click to enlarge
(Click to enlarge)
For weeks now I've been saying scale into new crop corn on pullbacks and those that heeded my advice are starting to reap the benefits. December corn has advanced just better than 10% in the last 2 sessions.
My advice is to buy dips and have a long position going into the month end USDA report. This market as well as other Ag markets can be traded with futures and options in my opinion. Use the Fibonacci levels in the chart above as your targets. The advance in recent dealings is likely attributed to fund buying and the dry weather conditions stressing the crop in the Mid-west.
Disclosure: I have no positions in any stocks mentioned, and no plans to initiate any positions within the next 72 hours.
Disclaimer: The opinions contained herein are for general information only and not tailored to any specific investor's needs or investment goals. Any opinions expressed in this article are as of the date indicated. Trading futures, options, and Forex involves substantial risk of loss and is not suitable for all investors. Past performance is not necessarily indicative of future results.