The markets are at a major turning point. The fate of commodities, emerging markets, the US Dollar, technology, and housing is at stake. Europe and the Middle East are in turmoil. Governments and central banks are trying to maintain order and stimulate the economy. But their effectiveness is in great question. Can we make it through on very slow growth, or is a big economic and financial shock coming up? Either way, in good or bad markets there are always ways to make money. So how should investors manage their portfolios?
It is very important for all investors to know their portfolio's asset allocation at all times. How much of your money is in stocks, bonds, cash, annuities, life insurance, home value, and any other possession or asset? And, furthermore, the harder to answer question - how much risk are you currently taking? How much are you willing to risk and even lose?
People are at much more risk than they think. As we have learned over the past two recessions, your investments can lose half of their value or more in a very short period of time. Even worse, it seems that no investment is 100% safe - there are now big risks in defaulting loans, government rating downgrades, financial panics, inefficient markets, political shakeups, over- and under-regulation, and increasing fear. It is time to be careful.
At Chart Prophet Capital, our main focus is to determine the direction of the markets and invest in the most promising and profitable themes, while always staying diversified and protected. We support and confirm all of our investment decisions with detailed, methodical, and expert analysis - which we call "Triple Perspective Analysis", based on a mix of Fundamental, Technical, and Behavioral methods. Our investments are therefore based on thorough analysis, multiple-layer strategies, and searching for high-payout opportunities.
Finding these high-payout investment opportunities usually involves searching for extremes in sentiment: When everyone is extremely optimistic and enthusiastic about an investment, it might be time to avoid it or even bet against it; on the other hand, when everyone is extremely pessimistic and avoidant of an investment, it may be time to buy. We have a name for this "return to normalcy" or "back to reality" - we call it "Equilibrium Trading". Money is made at extremes - both positive and negative - and we invest based on the view that extremes are not sustainable and asset prices tend to "revert to the mean". As always, of course, understanding and managing risk is key.
Stocks We Like: Sectors, Companies, and Themes to Watch
First and foremost, avoid financials. There is simply way too much risk investing in banks, most of which have major exposure to financial shocks, a European crisis, or a liquidity crunch. Just keep Bear Stearns, Lehman Brothers, AIG, and now JP Morgan (NYSE:JPM) in mind. With over-leverage, toxic balance sheets, and ever-decreasing transparency, banks all around the world are in trouble.
On the other hand, there are some great opportunities (both long and short) in Energy, Commodities, Technology, and Housing.
Energy & Commodities
An economic slowdown or recession would almost certainly hurt oil and commodity prices due to declining growth and deflationary pressures. However, we still like energy-related investments more than most other options because energy resources are finite and critical. Our favorite and most recommended play in this sector is a Long Natural Gas / Short Gold Miners (NYSEARCA:GDX) pair trade.
Natural gas is the buy of the decade. After a severe multi-year decline and extremely pessimistic investor sentiment regarding natural gas, it's time to buy it as a beaten-up, low-risk recovery play that is in the beginnings of a multi-year rally (See: Natural Gas: The Buy Of The Decade). Natural gas will likely outperform most commodities and investments, including oil and gold.
Our favorite way to profit from the natural gas theme is investing in natural gas companies. Commodity futures are a good option, but are harder for most investors to access. Natural gas ETFs, like (NYSEARCA:GAZ) or (NYSEARCA:UNG) are fine as well, but may have issues with tracking risk and net asset value (NYSE:NAV). Therefore, the best way to gain exposure to natural gas is buying Devon Energy (NYSE:DVN). Devon, an oil and gas exploration and production company, is not only very well positioned to profit from rising natural gas prices, but is very well diversified in location (Oklahoma, Michigan, Ohio, Texas, New Mexico, Montana, Alberta Canada) and also has exposure to oil. Furthermore, Devon has pipelines to transport oil and gas, which earn it a premium above and beyond just owning the commodity itself. Moreover, Devon has been ramping up its involvement in liquid natural gas, which will likely be the more popular and lucrative form over the next years, as liquid natural gas is more easily transported.
Most importantly, Devon Energy is a buy based on a trifecta of fundamentals, technical, and behavioral. Fundamentally, Devon has a strong balance sheet, with a smaller debt load than most of its peers, while selling at a big valuation discount. Devon has a very attractive PE ratio of 5, a price to book of around 1, and still pays a decent dividend of 1.4%. Technically, Devon is a good low-risk play at these levels, with technical support at $56 and $50, while also backed by a positive divergence in the Relative Strength Indicator (RSI).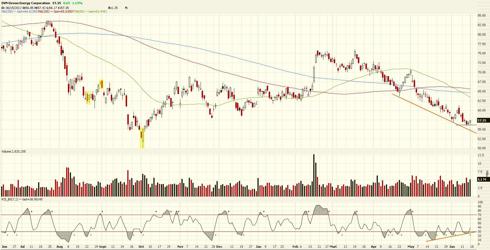 Finally, Devon is a buy based on investor behavior because it is highly overlooked due to both its exposure to natural gas and in relation to its peers. Since we think natural gas will outperform over the next few years, Devon - with its great valuation, diversified locations and exposure, and supporting technical - is a great buy.
Devon is not the only great way to play natural gas. For those who want higher returns but are willing to take more risk, we recommend EXCO Resources (NYSE:XCO) as the more speculative natural gas play. The company is relatively small (only $1.5B market cap compared to $23B for DVN), but has nearly 90 percent exposure to natural gas. EXCO's balance sheet isn't so attractive due to the multi-year decline in natural gas, but if natural gas recovers from here, the stock could at least double.
Additional natural gas stocks to keep an eye on are Chesapeake Energy (NYSE:CHK), Clean Energy Fuels (NASDAQ:CLNE), Exxon Mobil (NYSE:XOM), and Encana Corp (NYSE:ECA).
While we like natural gas, we also know the importance of protecting and hedging our bets. Natural gas will likely rise, but in case it doesn't we have initiated our favorite pair trade: long natural gas / short gold miners . We think natural gas will outperform gold over the next years, and gold miners are a much better short due to overspeculation, lack of hedging, and the bursting of the gold bubble (See: Gold Bubble).
If you want to hedge even more, while also targeting some big potential rewards, we really like Zales (NYSE:ZLC) and Uranerz Energy Corp (NYSEMKT:URZ). If gold continues to rise, we think diamonds and uranium will outperform in the commodity space. Zales is a tiny company at only $77M, but could be one of the most rewarding retail diamond plays if it can stay afloat. Uranerz is also a small company, at $106M, but increasing demand for uranium for energy or war could bring the stock up significantly. As always, use a lot of caution with these speculative names.
Technology
The technology space has seen some enormous runs in the Apple (NASDAQ:AAPL) and Facebook (NASDAQ:FB) era. Though there will be some great investment opportunities coming, there is also tremendous risk in this sector due to the over-enthusiasm of the past few years. We strongly recommend avoiding Groupon (NASDAQ:GRPN), Facebook, and Zynga (NASDAQ:ZNGA) because of their inability to meet expectations or monetize. These companies' stocks have already seen significant drops, but they are not immune to a massive collapse like Netflix (NASDAQ:NFLX) saw last year (See: Will Netflix Disappear?).
On the positive side, there are some opportunities in technology. After being in a slump for a decade, Microsoft (NASDAQ:MSFT) is in the midst of a comeback. We told readers in June 2011 that Microsoft was "over-hated, under-valued, and set to outperform". Not only does Microsoft offer some great valuations with a PE of 11, over $50B in cash, and a 2.7% dividend, but we also expect Microsoft to greatly outperform Apple over the next decade. Microsoft has been so overlooked in relation to Apple, and is now less than half of its size! Many investors have given up on Microsoft , but we expect it to gain dominance in multiple business segments in the battle against Apple, Google (NASDAQ:GOOG), Amazon (NASDAQ:AMZN), and other top tech companies. Microsoft is a large cap, blue-chip, diversified company that will be safer in a downturn than most technology stocks. Though downside risks include a disliked CEO, still-unprofitable Bing search, and still-to-be-determined Windows phone success, we think Microsoft's broad diversification across software, cloud, Xbox, phones, the new "Surface" tablets, video, and search make it a great buy. We expect Microsoft to close the gap with Apple - whether that means Apple must fall or Microsoft will rise.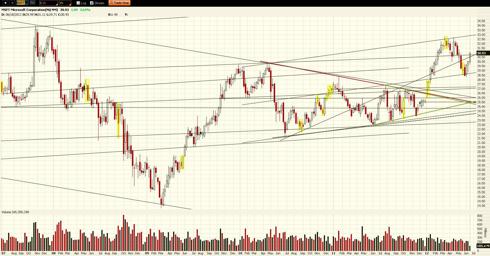 Our favorite speculative play in technology is Silicon Image (NASDAQ:SIMG). I have been following the stock since 2007, as it has been stuck in a range of $2 to $10. Now at $4, it is a great low-risk bet. The company is relatively small at a $344M market cap, but may be set for a rapid gain over the next year or two. The catalyst? It was recently announced that SIMG's new chips will be included in Samsung's Galaxy phones. Not only do we expect Samsung to challenge Apple's iPhone, but Silicon Image's role in phones and tablets could send its stock soaring as SIMG returns to profitability in a big way. With no debt, $151M in cash, and a very low-risk support level at $4/share, SIMG is currently our favorite speculative technology play.
Housing
Following the upheaval of the housing bubble and its aftermath, we have liked the homebuilders as a recovery play (See: Playing a Housing Recovery: Buy Physical Property or Invest in Stocks?). Agreeably, the homebuilders have already seen a big rise since the October 2011 bottom, but we think they will at least outperform a number of other sectors over the next years. If housing continues to recover, we expect Hovnanian (NYSE:HOV) to be the best performer due to a giant short-squeeze (currently, 35% of shares are short). However, safer companies in the housing sector are Toll Brothers (NYSE:TOL), Lennar (NYSE:LEN), and PulteGroup (NYSE:PHM).
Conclusion
It's time to be safe and diversified. The stock markets in general, and a number of stocks specifically, have seen significant gains since the March 2009 and October 2011 bottoms. Now is the time to be picky, and we favor picking beaten-up and overlooked companies and sectors, while also protecting positions through pair trades and options strategies. Avoid hype, be careful, and minimize unnecessary risk.
Disclosure: I am long DVN, XCO, GAZ, ZLC, SIMG, URZ, MSFT. Short GDX through put options. May initiate positions in any stocks mentioned.