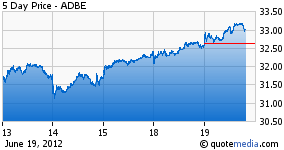 Adobe (NASDAQ:ADBE) is expected to report Q2 earnings after the market close on Tuesday, June 19, with a conference call scheduled for 5:00 pm ET.
Guidance
The consensus estimate is 59c for EPS and $1.11B for revenue, according to First Call. The whisper number is 58c, 1c behind the consensus estimate. Last quarter the company reported earnings that matched the whisper number. Management guidance for Q2 calls for non-GAAP EPS of 57c-61c and revenue of around $1.09B-$1.14B. For FY12, Adobe expects non-GAAP EPS of $2.38-$2.48, based on a share count of 502M-504M shares. On April 12, the company approved a $2B repurchase program.
Analyst Views
Most of the analysts believe that with the release of CS6, Creative Cloud product cycle and the Efficient Frontier acquisition, EPS and revenue will likely come in at the high end of the management guidance range. However, they believe that negative foreign currency movement will act as a headwind. The analysts believe that CS6 is off to a strong start, driven by an enhanced feature set, pent-up demand, newer cloud features and subscription pricing. Analysts do not expect strong operating margin expansion due to the company's huge growth investments and continued hiring. Strong competition from Apple (NASDAQ:AAPL) and Microsoft (NASDAQ:MSFT) remains a matter of concern.