Joseph was one of the most successful commodities traders in history:
Joseph amassed grain like the sand of the sea in great abundance. (Exodus 41:49)

When the famine spread over all the face of the earth, Joseph opened all the containers and sold provisions to Egypt. (Exodus 41:56)
Joseph understood the most basic trading principle, buy on weak demand, sell on high demand. He was living in a trader nation well before dividends, ETFs and mutual funds were invented.
After the dot com and financial bubble, there has been a lot of talk about the death of buy and hold, and how we now live in a trader nation. I have no doubt time will show this to be false, just as it has every extended consolidation period. However, there is some evidence that the end to trading dominance is coming sooner than people think. Here are a few ideas that show we may be almost there.
For 10 years Wal-Mart's (NYSE:WMT) stock flatlined. It seemed the company had reached maturity and the prospects for further growth receded. The fundamentals, however tell a different story. Earnings increased significantly year over year, along with book value, dividends and revenue. First quarter earnings beat Wall Street's expectations. Wal-Mart's stock price is edging towards an all-time high. Let's look at the chart to see if we can figure out why.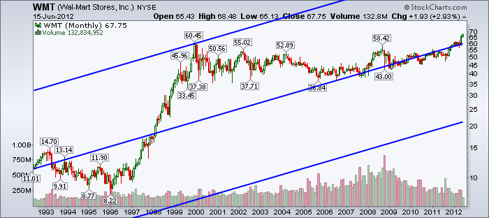 This is a 20 year chart of WMT with a regression line drawn in the middle. What we see is that Wal-Mart had a growth spurt between 1997 and 2000. Sometimes when things spurt, they need time to grow into their new clothing. Wal-Mart took a long time, but it is outgrowing its old clothes and starting to pay off for patient investors. New highs on WMT may signal a move back into safer companies and away from a trading mentality.
Microsoft (NASDAQ:MSFT) is one of my favorite companies. Dividend and earning increases along with $60 billion in cash is a great recipe for stability and growth. The stock price is well below its median P/E of 20, and this is understandable, due to Microsoft's maturity and lower growth prospects. However, do not count this one out as a great compounder.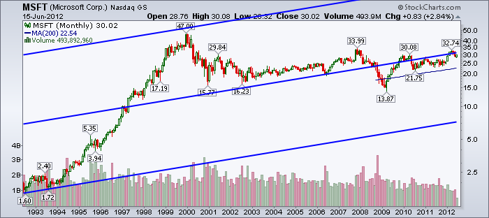 Again we see a similar pattern of tremendous growth followed by a consolidation that lasted over 10 years. But as people start to leave trader nation and look for inflationary protection and generated income, Microsoft will be poised and ready to grow. When people lose enough from trading or simply decide they do not want to play the game, they will rediscover these powerful steady equities, like Johnson&Johnson (NYSE:JNJ), Procter&Gamble (NYSE:PG), Colgate-Palmolive (NYSE:CL), General Mills (NYSE:GIS), and all the great dividend payers and compounders will see new growth. It has taken a long time for this consolidation to play out, but young investors like myself have time on their side.
My Rabbi and I used to have heated arguments about the market. He would trade leveraged ETFs such as FAZ (NYSEARCA:FAZ), UCO (NYSEARCA:UCO), and DXD (NYSEARCA:DXD). I kept telling him that he was gambling. He would retort that he sometimes made large sums in a single day. I responded that it is just like a casino; you may walk out one night a winner, but you will eventually lose everything.
I met up with him a few years later, and as usual, we immediately started talking about the market. Except this time was different. He gave up trading completely and became an investor. His top priorities included dividends and safety. As we talked, I could see he was a much more peaceful and relaxed person.
I am finding this scenario more common. I believe this is a sign that people are starting to understand what the market was originally intended to be; a place where people could have their money work for them and enjoy their dividend checks as they patiently watched their savings grow.