At Freedom Mountain Investments, one of our specialties is investing in thinly traded micro-caps that have true sustainable value. I identified the small Duluth Minnesota company Ikonics (IKNX) a couple of years ago and started buying in the $7 dollar range.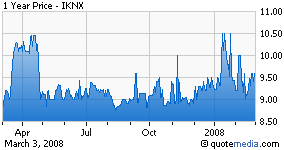 Ikonics is in the business of development and manufacture of light-sensitive liquid coatings and films, and proprietary substrates for abrasive, rotary, and laser etching. One of its key brands is the Chromaline used in screen printing applications.
Ikonics is a thin reed of a company, sporting a market cap of only $19.9 million. The company has been in existence for over 50 years, which gives an investor some confidence in won't blow away in market turbulence any time soon. It has seen some decent growth over the last 6 years, increasing sales from $ 10.4 million in 2000 to about $15.83 million in 2007. Earnings per diluted share increased from 20 to cents over that time period.
Recent IKNX initiatives include include entering into a development agreement in March 2006 with Image Technology in conjunction with a development of a new ink jet system. IKNX acquired the Image Mate line of screen printing products from Franklin International later in 2006. These initiatives, along with some nice organic growth, have caused the company to buy an option on new land in Duluth for expansion as it is outgrowing its current 2 story office building in Duluth. In its most recent quarterly report on February 21, 2008 IKNX reported record sales and earnings, although the y/y increase in earnings was only about 4%. The company listed Sarbanes Oxley expenses and start-up costs associated with two new technologies as factors that lowered earnings.
However, one of the new technologies, called Digital Texturizing, appears to be advancing with a positive initial market response. IKNX expects to be taking orders on this by the end of 2008. Current assets increased nicely going from $8.2 MM to over $9.3 MM year to year.One can purchase this nice growth story at a modest p/e of under 17 based upon the current $9.41 share price. The price to sales ratio is a very modest 1.26. The bargain becomes more evident when the balance sheet of IKNX is examined. The company had over $4.5 MM in cash and equivalents prior to the last quarter and no long term debt. IKNX is currently trading at just 1.8 times book value and just 2.3 times net working capital (based upon data prior to the last quarter). Furthermore book value is certainly understated since it includes land and the office building purchased many years ago, but just accounted for at cost. And now the bit of mystery -successful investment in micro-caps often involves some detective work.
With IKNX, a review of the SEC filings shows substantial accumulation by one Joseph R. Nerges listed as having an address of 1726 Bundy St., Scranton PA. Mr. Nerges currently owns more than 10% of the IKNX float, beginning his purchase of shares in June 2006 and continuing to buy as recently as Feb. 25, 2008. Mr. Nerges is listed as buying these shares in a retirement account. Who is this Mr. Nerges, the Scranton PA millionaire? A search for information on 1726 Bundy St. lists it as having a value of just $13,000 very modest even for upstate Pennsylvania. Searching further, we find that Mr. Nerges was involved years ago in the Penobscot Shoe company in Maine, acquiring a significant stake. He apparently profited nicely when that small company was acquired in 1999. I cannot find any evidence that Mr. Nerges has ever owned any reportable stakes in other public companies. So his concentration in IKNX is apparently notable. Other insiders at IKNX own about 33% of the remaining shares on the market.
Of course, a company as small as Ikonics has no analyst coverage. It appears to be a true hidden gem. Our experience is that the nimble individual investor can profit from the market inefficiency that results from such lack of attention. Eventually such stories receive more notice as the company continues to grow, or alternatively the companies are acquired. IKNX stock is very thinly traded and it would be advisable to buy shares with limit orders only.
Disclosure: Author holds a long position in IKNX