Selling puts is a great way to purchase shares in companies you like at a predetermined price. In essence, you are getting paid to put in a "limit order."
An investor usually sells a put option if his/her outlook on the underlying security is bullish. The buyer of the put option pays the seller a premium for the right to sell the shares at an agreed-upon price. If the stock does not trade at or below the agreed-upon price (strike price), the seller gets to keep the premium.
Additional benefits associated with selling puts
1. It allows one to generate income in a neutral or rising market.
2. Acquiring stocks via short puts is a widely used strategy by many retail traders and is considered to be one of the most conservative option strategies. This strategy is very similar to the covered call strategy.
3. The safest option is to make sure the put is "cash secured." This simply means that you have enough cash in the account to purchase that specific stock if it trades below the strike price. Your final price would be a tad bit lower when you add the premium you were paid up front into the equation. For example, if you sold a put at a strike of 20 with two months of time left on it for $2.50 - $250 per contract would be deposited in your account.
The majority of traders opt to close the put out prior to expiration if they have the chance of buying it back at much lower price. For example, selling the put at $2.50 and buying it back at $0.50.
Some Reasons to be bullish on Linn Energy (LINE):
An excellent yield of 8.10%
A Five year cash flow average of 2.56
A great five year sales growth rate of 32.84%
An excellent 3 year total return of 194%
Sales vs 1 year ago increased by 68%
An excellent quarterly revenue growth rate of 44%
An excellent 5 year sales growth rate of 29%
A good interest coverage ratio of 4.20
An excellent 5 year dividend average of 9.9%
Net income increased from $-298 million in 2009 to $438 million in 2011
Cash flow increased from $3.31 in 2009 to $3.80 in 2011
A decent levered free cash flow of 127 million
A good 52 week relative strength score of 61
Sales more than tripled from $273 million in 2009 to $1.16 billion in 2011
Good profit margins of 68%
Year over year projected growth rates for 2013 of 19.58%
CEO Mark Ellis stated that Linn had been looking at several acquisition opportunities, and that they have the cash and credit facilities to do this. 2012 could turn out to be another strong year in terms of acquisitions.
It is aggressively investing in the Granite Wash area. After completing a $530 million acquisition in the area, it has already identified 600 drilling locations and plans to drill and operate 59 horizontal wells that are expected to generate returns in excess of 50%.
It has hedged 100% of natural gas production at $5.45 per thousand cubic feet through 2015.
In January 2012, it announced a public offering of 17 million units priced at $35.95, the proceeds of which will be used to pay down its debt.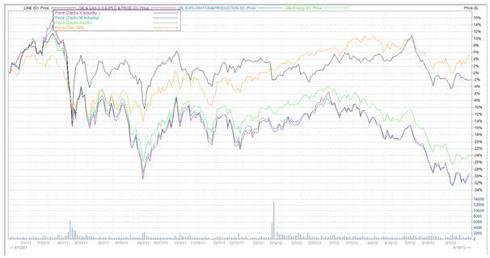 Click to enlarge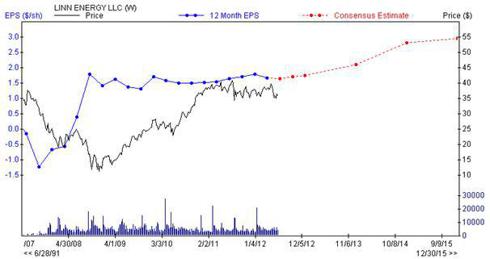 Click to enlarge
Suggested put strategy for Linn Energy
The stock is likely to re test its lows before a bottom is fully in place. It would be a good to idea to wait for it to trade down to the 34.50-35.50 ranges before putting this strategy into play.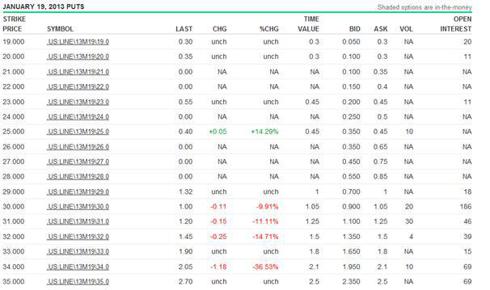 Click to enlarge
The Jan 201, 35 puts are trading in the 2.35-2.50 ranges. If the stock pulls back to the suggested ranges the puts should rise an addition 30-50 cents in price. For this example we will assume that these puts can be sold at 2.70 if the stock pulls back to the suggested ranges. If you are bullish on this stock right now you could sell these puts at the current prices.
Benefits of this strategy
If the stock does not trade below the strike price you get to walk away with the premium, for a gain of 7.7% in roughly seven months. If the stock trades below the strike price you will at a price of your choosing. Your final cost price per share will be 32.20.
Risk factors
The only risk is that the shares could be assigned to your account if the stock trades below the strike price. As you were bullish on the stock this will most likely not be a big deal as you will actually get in at a lower price.
Conclusion
Only put this strategy to use if you are bullish on the stock, for there is a chance that the shares could be assigned to your account if the stock trades below the strike price. This usually takes place on the expiration day as most option players are in the game to make money and not to force the seller of the option to purchase the shares. Investors looking for other ideas might find this article to be of interest - Enterprise Products: Earn 7% Extra In 7 Months, Or get in at $41.70.
Disclaimer
It is imperative that you do your due diligence and then determine if the above strategy meets with your risk tolerance levels. The Latin maxim caveat emptor applies - let the buyer beware.
Disclosure: I have no positions in any stocks mentioned, and no plans to initiate any positions within the next 72 hours.
Additional disclosure: EPS and Price vs industry charts obtained from zacks.com. A major portion of the historical data used in this article was obtained from zacks.com. Options tables sourced from money.msn.com.