It is clear by the continuing margin calls being experienced at Thornburg Mortgage (TMA) that the attractive dividend will be announced as suspended in the next few days. The company cannot be offering such a dividend as it scrambles to shore up its capital to meet the relentless calls.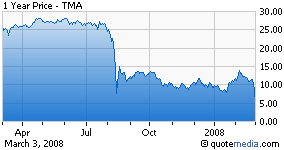 However, for those investors that have some DNA of the "vulture" in them, a bet that the company's well-respected backoffice and position in the mortgage industry will attract the necessary capital to clear the current margin call hurdle may not be ill-advised. Not to be overlooked is that Legg Mason Capital Management disclosed a 9.08% ownership in Thornburg (as of January) along with real estate and energy investor Richard Rainwater of Bass Brothers fame reporting a 5.5% position. It would not be altogether surprising if either of these institutional holders have some participation in the raising of that capital.
Just like E-Trade Financial (NASDAQ:ETFC) found a well-heeled investor in Citadel Investment of Chicago when they needed to protect their initial investment from last summer, so too will be the incentive to the current institutional holders of TMA.
Disclosure: none