Valeant Pharmaceuticals International (NYSE:VRX) will sell its Asia Pacific operations to Invida Pharmaceutical Holdings Pte. Ltd. for a one-time cash payment of $37.8 million. Invida will now be able to market a portfolio of 230 former Valeant products to 12 Asian countries, including Singapore, the Philippines, Taiwan, Korea, and China.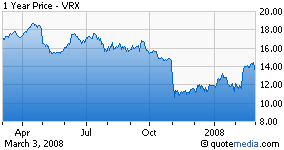 Last week, Valeant released a disappointing 2007 financial report, which announced flat 2007 revenues and a loss for the year. In its release, the company reiterated its goal to jettison some of its products with the goal of streamlining the company and becoming profitable on a smaller revenue base. It said in the 2007 press release that it had reached a definitive agreement to sell its Asian operations, though it did not name the purchaser. That news came Monday morning, along with the sale price.
Valeant did not release revenue figures for its Asia Pacific operations. However, its Europe-Middle East-Asia division had sales of $307.5 million in 2007. Valeant said the Asia Pacific section was diverting a disproportionate share of management's time and energies.
Valeant offers products in three basic areas: dermatology, infectious diseases and neurology. The products that were announced as part of the 230 product transfer to Invidia all came from the dermatology specialty: Kinerase, Dermatix and Efudix.
Invidia officials said the acquisition would transform Invida from a sales-oriented service company into a specialty pharmaceutical enterprise.
Invida Pharmaceutical Holdings, which is located in Singapore, is a holding company whose divisions include Pharmalink, a pharmaceutical and healthcare commercialization provider in the Asia Pacific region, and Inovail, a pharma focused on dermatology, complementary oncology and female healthcare.
Invida was established as a joint venture in 2005 by Temasek Holdings, Quintiles Transnational and Zuellig Pharma. At that point, predecessor companies had been providing commercialization services in Asia Pacific for more than 50 years. Invida said that its pan-Asia marketing organization included 3700 employees.
Disclosure: none.