Webzen (WZEN) is a Korean video game developer and publisher specializing in Massively Multi-player Online Games [MMOG]. Its games are played in China, Korea, Taiwan, Japan, the Philippines, the U.S. and Vietnam.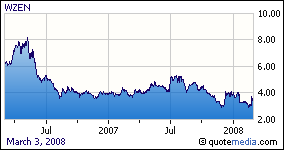 Unfortunately, Webzen hasn't lived up to its hype. From its high of $12.68 in 2004, Webzen has dropped to its current price of $3.39. Its only real success to date has been MU, a MMOG released in 2003. The company's newest MMOG, Soul Ultimate Nation, has been underwhelming with game revenues already decreasing… Company revenues have actually decreased both domestically and overseas and net income was negative in both 2006 and 2007.
With net income for fiscal year 2008 projected to be US$4.26 million, the company has a Forward Price-Earnings (F P/E) ratio of 32.4. A seemingly expensive valuation when comparing it to other Asian video game developers such as Shanda Interactive Entertainment (P/E ratio of 12.39), Giant Interactive Group (P/E ratio of 14.12). So what exactly has Webzen going for it?
As you can probably already guess, 2008 is crucial for Webzen with the company releasing both Huxley and All Points Bulletin (APB). Huxley is an internally developed MMOG that has won numerous accolades from IGN and E3. APB on the other hand is developed by David Jones, creator of the Grand Theft Auto series. APB is plays like an online version of Grand Theft Auto and with over sixty-five million copies of Grand Theft Auto sold, APB seems almost certain to succeed.
Webzen also has a strategic partnership with The9, an online game operator of MMOGs such as World of Warcraft in China, perfectly placing Webzen to continue expansion in the Chinese online gaming market. It is estimated that revenue from the Chinese online gaming industry will grow by 30% annually to US$3.5 billion in 2011.
By no means is investing in Webzen without risk. An expensive valuation coupled with a company that has failed to consistently generate profit after eight years of operations means that there is significant potential downside for the stock. However, I am confident that 2008 will be a turning point for the company. Video game publishers only need one brilliant game to turn the company's fortunes around. Webzen might just have two.
Disclaimer: Author does not hold Webzen at time of publication.