Market Recap: The market continued to make its way higher, breaking through some key technical levels on the back of good housing data, strength in Europe, and expectations of Fed free money. Building permits saw a dramatic rise to 780K, which killed expectations and helped raise housing stocks. Housing starts were a bit weaker than expected, but that was outweighed by permits as well as strength in Europe. The strength in Europe and expectations of European action to bailout rose the euro, helping American equities. Additionally, the big expectations are for what is coming from the Fed tomorrow. Many expect that the Fed will take action, which is also helping goose the markets higher.
Most expect the Fed to continue Operation Twist tomorrow, and that may move these markets even higher. At the same time, some of that news may be priced into the market. The key was some technical breakouts occurring, and the fact that bears are being pushed aside. A lot of short squeezing and panic buying could start to occur at some point here in these markets.
Two Trades
Two trades we are watching right now are a pair trade in Home Depot (NYSE:HD) and Advance Auto Parts (NYSE:AAP) as well as looking at selling calls in Zillow (NASDAQ:Z). We currently like what we are seeing from HD and not from AAP. HD has solid fundamentals after a great quarter in May. The stock has continued higher since then and looks like it's breaking out right now. We look for HD to continue to outperform the market. Additionally, we like the looks of shorting AAP to pair with that long. Auto parts' companies have been stronger, but AAP has not seen the same success of likes of AutoZone (NYSE:AZO) and O' Reilly Automotive (NASDAQ:ORLY). The stock has broken some key MAs and has continued to weaken despite great market strength. Look for both trends to continue as HD is in solid growth mode vs. AAP's flatlining. Zillow has been fairly weak as of late, not enjoying the great strength of the market. The stock has a very strong multiple, and it has not even improved despite a great housing market recovery to begin this year. If it's not rising now, when will it...
Trade #1: HD Long, AAP Short
Trade #2: Z, $35 Calls, Sold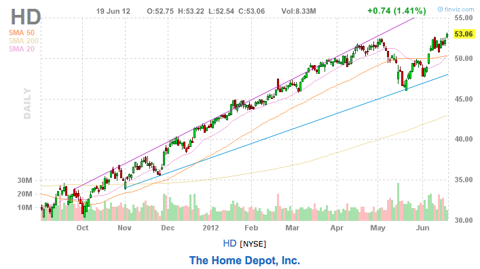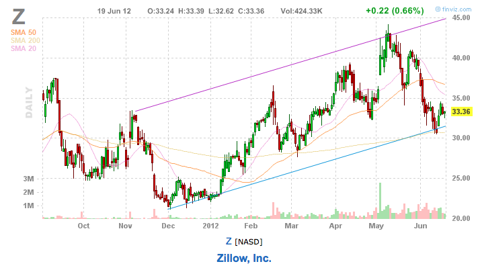 Tomorrow's Outlook
Tomorrow should be very interesting with the FOMC rate decision and report from Fed. We believe extension of Operation Twist will occur, and we believe that generally it puts a bottom floor on market downside risk. Alone, it is not a great catalyst for the markets, but it may give some short-term relief. We expect a flat move into the announcement and good upside out of it. How long it will last...that's the real question. If it comes with moves from Europe, then it will be much more successful. With issues in Europe still there, we are not out of the woods though. In addition to the Fed, we will want to look at British employment numbers and the BOE meeting report tomorrow. Some interesting earnings are also on the docket from Adobe (NASDAQ:ADBE), Jabil (NYSE:JBL) tonight as well as Bed Bath and Beyond (NASDAQ:BBBY) and CarMax (NYSE:KMX) tomorrow. Commodities will also be moving a lot tomorrow with the Fed announcement. Oil has not shown a lot of strength despite market strength, and it is stuck between 80-85. If we get no help from Fed, look for oil to weaken. A bear call spread on United States Oil (NYSEARCA:USO) may be appropriate. Gold (NYSEARCA:GLD), additionally, would weaken without Fed help and may get a nice boost if they do take on more action.
Oxen Group Moves
We had a solid day in the markets as we were able to exit several positions. We got out of a Lennar (NYSE:LEN), Constellation Brands (NYSE:STZ) pair trade announced yesterday for 2.5% gain for first half. We also saw sold puts in Marriott (NYSE:MAR) come down in value for a 13% gain and bear call spread in Walgreen (WAG) come down in value for 12% gain. We also saw a Netsuite (NYSE:N), Rockwell Collins (NYSE:COL) pair hit our 2% gain target. In our long-term portfolio, Boston Beer (NYSE:SAM) hit our second target for a 20% gain. We took a loss in puts on Garmin (NASDAQ:GRMN) to average out for a small loss. We added the above pair in HD:AAP as well as bull put spread in Intuitive Surgical (NASDAQ:ISRG).
We have the following positions. In our Short-Term Equity Portfolio we are long HD, Apple (NASDAQ:AAPL), Skyworks (NASDAQ:SWKS) and NetSuite . We are short AAP, SPDR S&P (NYSEARCA:SPY) and Rockwell Collins . In our Options Portfolio, we are long Dollar General (NYSE:DG), Monster Beverage (NASDAQ:MNST) and AutoZone . We are short Aflac (NYSE:AFL). We have a reverse iron condor on Apple . In our Earnings Alpha portfolio, we are long ISRG, Marriott and Lennar . We are short STZ, Schlumberger (NYSE:SLB) and Walgreen . We have a reverse iron butterfly in Decker's Outdoor (NASDAQ:DECK).
Chart courtesy of finviz.com
Disclosure:
I am long PNRA.