I have been broadly positive for natural gas (NYSEARCA:UNG) since April 24, expecting rising prices during 2012, and especially during 2013. The basis for the thesis that 2012 could see rising prices was dispatch switching - where natural gas generators get run more often due to natural gas being cheaper to run than coal (NYSEARCA:KOL) in many places. The basis for the thesis that 2013 should see a more supported rally was production drops stemming from the quick depletion of shale wells as well as the fact that rigs are both declining and focusing on wet plays, which produce more NGLs and oil, and less natural gas.
Since I first formulated those two theses, natural gas went from around $1.90 up to $2.82, then back down to $2.17 or so, and is now back above $2.60. When natural gas hit $2.80 I wrote that there were two barriers that natural gas would face. The first of these would be the switch back to coal - as dispatch switching is temporary and reverses once relative prices change, like they did. At $2.70-$3.00 natural gas thus sees a switch back into coal that quickly reduces consumption in an environment where production, albeit falling slowly, is still excessive.
Most of the developments in natural gas have been falling within the expectations I've put forward. However, it's important to consider that with natural gas again approaching the first natural barrier - the switch back to coal - this means unless we get an incredibly hot summer natural gas has already rallied about as much as we can expect it to, during 2012 before the top of the injection cycle (October-November).
So at this point the path natural gas prices will take for most of the remainder of 2012 seems quite weather-dependent. As we can see from accuweather's forecasts for temperature trends, the trends are still favorable. But these trends can actually change and aren't so reliable over longer periods - plus there's a spot over days 6-10 with below temps in the northeast, which might breed some worries: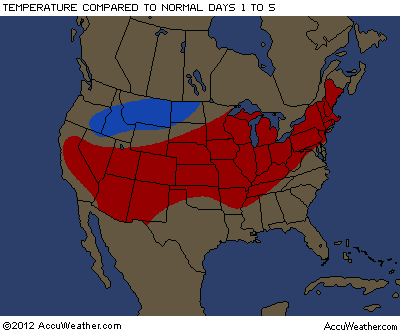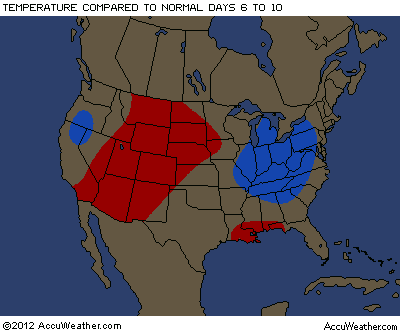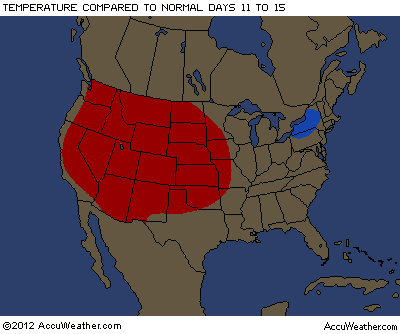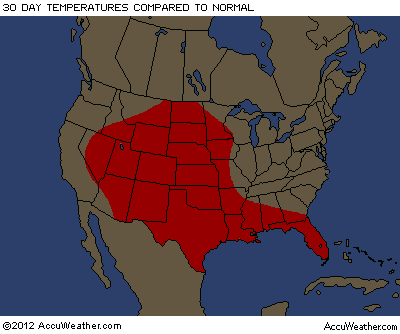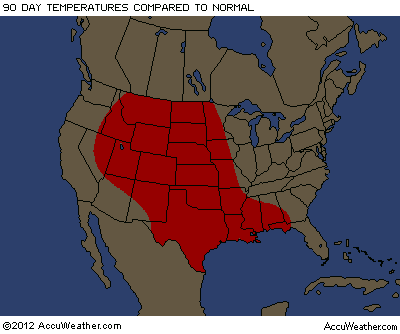 Also, during summer electric generation capacity gets used more intensively, and that can mean less dispatch switching as both coal and natural gas run closer to total capacity at the peaks.
Opinion for the remainder of 2012 until the end of the injection cycle
Taking all this together, my opinion is that we'll most likely see a range-bound market for most of the remainder of 2012, capped at $3 or so, but where it might make sense to buy any dips closer to $2 that aren't because of unfavorable (cooler) weather.
Opinion for late 2012 and 2013
As for late 2012 around the top of the injection cycle and into 2013, we must keep observing whether the predicted production drops materialize (those will represent a steepening of the present production drop trend). The market might also have some reaction to production turning negative year-on-year. This will happen just 2-3 months or so from today (in the August-September timeframe).
Given the production drops on existing wells, the drop in natural gas rigs and the focusing of these on wet plays, the likelihood is that the production drop will materialize in the neighborhood of 10% for 2013, consistent with Chesapeake's (NYSE:CHK) prediction for its own natural gas production. This is enough of a drop to create a larger natural gas rally during 2013, maybe even up to the $4-$5 area where rigs will start coming back again.
There's also the chance that production will drop enough to create fears of a shortage during 2013. That could make for temporarily much higher prices.
My own opinion on how to take advantage of these movements would be toward using natural gas futures or by investing in companies that can benefit from higher natural gas prices, such as Exelon (NYSE:EXC). I am not very fond of the natural gas producers themselves, because of high debt loads and the fact that natural gas will see a volume drop. Still, there should be good, conservative, natural gas producers such as Encana (NYSE:ECA) that will benefit considerably from any large increases in natural gas pricing.
Disclosure: I am long EXC.