By Joey Vazquez
We continue our search for the most attractive companies to buy and sell right now. The markets rallied today as the Fed began to consider its options that could lead to further moves to stimulate our economy. Today, I strive to find attractive companies with strong or weak fundamentals and technicals that will outperform or underperform the markets. Should you buy or sell these companies?
Click to enlarge.
Urban Outfitters Inc. (NASDAQ:URBN):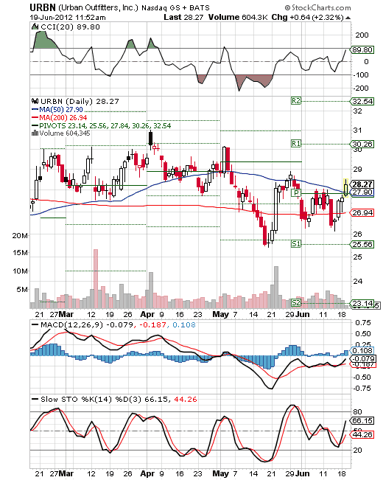 Click to enlarge

Urban outfitters was experiencing heavy selling pressure in the month of May, but that all changed after its second quarter earnings report. URBN beat their earnings estimate by 20%, and it was one of the first strong reports for the company in quite some time. Some of these companies are showing cyclical strength right now given current style trends, and we especially like companies like American Eagle Outfitters (NYSE:AEO), Zumiez (NASDAQ:ZUMZ), Gap (NYSE:GPS) and URBN. URBN recently bounced off its 200-day MA and retook its pivot point and 50-day MA on its way up. URBN now has very strong support at the 27.80-27.90 area. Its MACD indicator just crossed back up giving us a bullish indicator. URBN CCI indicator is certain to enter the bullish +100 area, its stochastics confirm this as they are headed higher as well.
Trade Idea: Go long URBN
Entry Range: 28.23-28.37
Targets: 28.58, 28.86
Stop Loss: 27.73
Our Entry: 28.30
Toll Brothers Inc. (NYSE:TOL):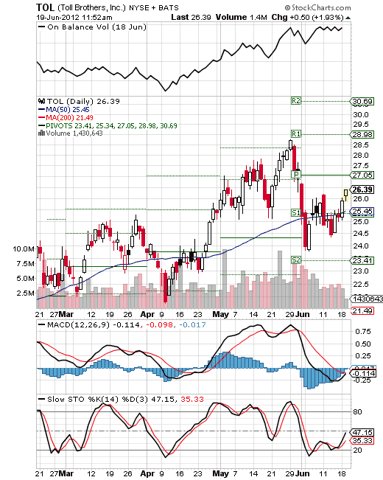 Click to enlarge
The residential construction sector has been strong for most of the year, but especially these last couple of days, receiving better than expected economic numbers in building permits and the NAHB Housing Market Index. These reports have helped propel companies such as Lennar Corp. (NYSE:LEN), PulteGroup Inc. (NYSE:PHM) and TOL higher. TOL was able to break through its 50-day MA and a support line in its recently rally, and it still looks poised to continue higher. Its MACD indicator will cross over its signal line giving a great bullish indicator that suggest the rally should keep on going. Its OBV indicator is in a strong upwards price channel, suggesting the positive momentum is still flowing strong into the stock. URBN stochastics have turned around and are headed higher confirming our bullishness in the stock.
Trade Idea: Go long TOL
Entry Range: 26.20- 26.33
Targets: 26.52, 26.78
Stop Loss: 25.73
Our Entry: 26.26
QEP Resources Inc. (NYSE:QEP):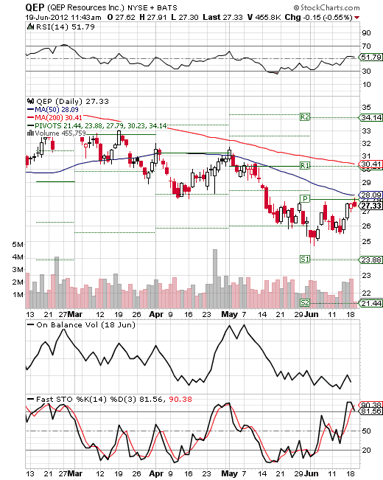 Click to enlarge
The Oil & Gas drilling sector has been very weak all year due to the large drop in the price of oil. QEP has been weakening though before the move down in oil. QEP was downgraded to Market Perform in late April by Howard Weil. This downgrade as well as the weak month of May helped push QEP lower and into a new bearish trend. QEP recently tried to rally but the resistance from its pivot point proved to be stronger, above the pivot point lies its 50-day MA another strong resistance line. QEP is faced with the task of breaking two strong resistance line and we are betting against that as its stochastics have turned down and are headed lower. QEP OBV indicator has recently entered a new downward price channel, showing the positive momentum leaving the stock in a hurry.
Trade Idea: Go Short QEP
Entry Range: 27.75- 27.60
Targets: 27.40, 27.13
Stop Loss: 28.23
Our Entry: 27.68
Tata Communications (NYSE:TCL):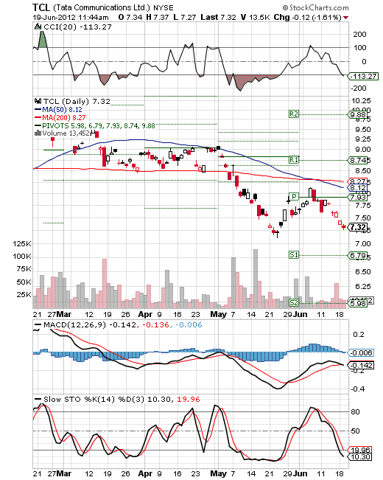 Click to enlarge
Tata Communications started the year on strong note, but have really fallen apart in the second quarter of this year. On the 21st of May, TCL reported that its consolidated net loss for the fiscal fourth quarter widened to INR 2.61 billion from INR 1.57 billion from a year earlier due to higher network costs. TCL recently tried to rally, but the resistance from its pivot point was too strong. TCL now has strong resistance at the 7.93 level and the stock should continue lower as a death cross has just formed on its chart. Its MACD indicator has just crossed its signal line down, giving us a bearish indicator. Its CCI indicator has just entered the unfavorable -100 area, telling us that the start of a new bearish trend is in play. TCL stochastics are also headed lower, confirming our bearishness.
Trade Idea: Go short TCL
Entry Range: 7.34- 7.27
Targets: 7.23, 7.15
Stop Loss: 7.44
Our Entry: 7.30
Disclosure: I have no positions in any stocks mentioned, and no plans to initiate any positions within the next 72 hours.